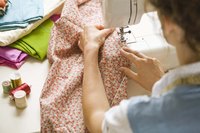 Using a Brother XL-3100 27-stitch free-arm sewing machine provides all of the basic patterns and functions you should need for general sewing projects. This machine provides three-needle positions, a stitch width adjustment and a built-in needle threader. This is a mechanical sewing machine as opposed to an electronic machine, so it will be a bit louder when sewing. The Brother XL-3100 also has snap-on presser feet which makes swapping the feet a simple two-step process-no need for a screwdriver. This machine also sews forward and reverse and has a built-in handle.
Things You'll Need
Brother XL 3100 sewing machine
Power supply
Instruction manual
Unpack your Brother XL 3100 and place on a solid surface near a power outlet. Plug in the three prong power cord into the machine power outlet located on the right side of the machine. Plug the other end of the power cord into a power supply outlet on the wall.
Familiarize yourself with the basic components of the sewing machine. The bobbin winder is on the top right of the machine, moving to the left is the spool pin, the thread guide, the thread take-up lever, a stitch width dial and the upper-tension-control dial. Located on the left side of the machine is the thread cutter and the needle threader lever. The base of the machine contains the accessory compartment, the bobbin case and the presser foot. The face of your machine has a pattern selection dial and a stitch-length dial.
Plug in the foot controller cord into the outlet located on the right side of the machine. Place the foot controller on the floor where it can be easilty reached. Flip the black switch located on the right side of the machine to the "ON" position.
Raise the sewing needle to the highest position by turning the hand wheel on the right side of the machine towards you. The black arrow on the handwheel should be pointing upward.
Remove the bobbin case cover located under the needle. Place a bobbin containing thread in the bobbin case and follow the threading diagram on the casing. Replace the case cover.
Place a spool of thread on the spool pin and place a plastic spool cap over the spool. Thread the machine according to the threading diagram on the machine. Depress the threading lever. This will automatically thread your needle. You are now ready to sew.
Place your fabric under the needle. Release the presser foot lever located above and to the right of the needle. This process holds your fabric in place. Keeping your fingers at a safe distance from the needle, lightly depress the foot pedal and your machine will begin to sew.