Things You'll Need
Scissors

Mesh fabric

Needle

Thread

Stuffing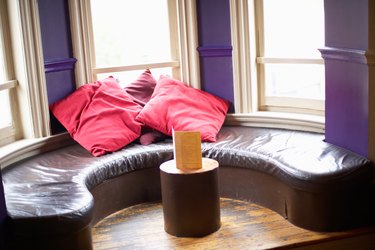 A simple leather cushion can add a lot of character to your couch or chairs. Larger leather cushions can also become seats of their own if you fancy the idea of large sitting pillows. Instead of paying a high price for store-bought leather cushions, make your own right at home. Leather is a little harder to handle than regular fabric, though, and requires more upkeep. Remember that when you start a project involving leather, you are making a long-term commitment to the care and upkeep of the material.
Step 1
Cut out two squares of leather material about the size you want the pillow to be. Cut two equally large pieces of mesh material out.
Step 2
Stack your layers of fabric with one layer of mesh, one layer of leather (display side up), the second layer of leather (display side down) and a final layer of mesh. Pin the stacked fabric into place.
Step 3
Stitch three sides of the mesh and leather together using a sturdy needle. Use any stitch that makes you feel most comfortable. Leave one side of the cushion completely unstitched. When you finish, the cushion should be able to function like a simple square bag.
Step 4
Turn the cushion inside out. This should expose the smooth outside of the leather.
Step 5
Fill the unstitched side of the cushion. Only fill the cushion with enough stuffing to make it comfortable. If you add too much stuffing, it may start putting strain on the stitching. Only put stuffing between the mesh. Do not put the stuffing between one side of meshing and the other side of leather.
Step 6
Stitch the final side of the leather cushion closed. Use a simple looping stitch that wraps around the side of the seam. This will be the most noticeable stitching on the cushion, so for the sake of looks, try to keep this fourth side as concealed as possible.
Tip
Condition your leather cushions with a leather conditioner of your choice once a week. This keeps the leather soft and pliant so it does not crack and break.
If cracks occur, rub leather moisturizer on the material to help make the cracks and damage look minimal.
Use a sewing machine for larger pillows to help spare your hands. Leather is a tough material, so sewing it by hand for a long period can be very exhausting.
Warning
Although you can slow the process, over time the leather will lose its elasticity and begin to harden. At this point, consider making new cushions.