Things You'll Need
Khaki pants

Khaki-colored turtleneck sweater

Suede fringe, light brown

Hot glue gun

Brown boots

Faux coonskin cap

Eubber or plastic hunting knife (optional)

Canteen (optional)

Leather satchel (optional)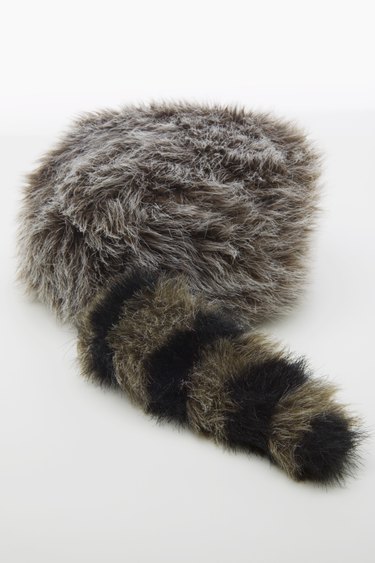 Davy Crockett was a frontiersman, hunter and hero of the Texas Revolution who fought at the Battle of the Alamo. He has been immortalized in stories, songs, television shows and movies. He has been a popular costume choice for young boys and grown men who enjoy historical or rugged dress-up choices. You can make your own Davy Crockett costume with basic materials and a few easy to find accessories.
Step 1
Use light khaki pants and a matching khaki-colored turtleneck sweater to create the basic look. Line the side seams of the pant legs with light brown suede fringe and hot glue. Line the cuffs of the sweater as well as the bottom hem with fringe as well. Glue a strip of fringe around the chest area of the sweater. Cut the neck of the sweater down the front making two flaps that fold into a collar. Line the edges of the collar in fringe as well.
Step 2
Include accessories. One of the most iconic parts of the Davy Crockett outfit is the coonskin cap. You can find these at costume shops or some toy stores. Pair that with a plastic or rubber hunting knife, a canteen with a leather cover, or a leather pouch worn at the waist. You can also carry a toy hunting rifle, though it may be hard to find one from the exact historical period. Brown leather boots such as those worn for hiking or working outside can be added as well.
Step 3
Use makeup. Davy Crockett spent a lot of time in the woods and in rough society, so he didn't always appear clean shaven. Use brown makeup smudged around the cheeks, chin, and upper lip to give the appearance of stubble. He also often wore long sideburns, so get some costume sideburns and attach to your face.
Tip
Instead of a turtleneck you can also use a khaki-colored shirt with a V-neck and a collar, which you attach fringe to.
Warning
Some children's parties or functions will not allow anyone to carry weapons, even if they are fake, so be sure to determine that before including them as costume accessories.