King-size pillows are the same circumference as standard pillows, but they're a few inches wider, so you can fill the top of a king-size bed with just two pillows, as you would a full- or queen-size bed. If you get king-size pillowcases with a sheet set and have standard-size pillows, you can simply tuck the excess fabric neatly into the open end, or you can cut the pillowcases down without losing the finish on the open ends.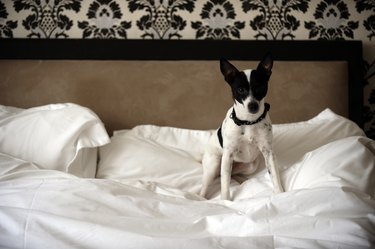 Things You'll Need
Scissors

Dressmaker Pins

Threaded Sewing Machine
Step 1
Slip the pillow you intend to use into the pillowcase only as far as you plan to use it. Standard pillowcases are 30 inches long, and king-size only 35, but you can allow more than usual of the pillowcase to lap over the end if you choose.
Step 2
Smooth the empty end of the pillowcase and pin it close to the end of the pillow. Remove the pillow and check the pin line to be sure it's straight and even.
Step 3
Stitch across the pillowcase an inch away from the pin line toward the seamed end. Remove the pins and trim the seamed end of the pillowcase to within 1/2 inch of the new seam. Clip the two corners inward.
Step 4
Turn the pillowcase wrong side out. Reach into the new seam to be sure the corners are turned smoothly and square. Stitch across again just far enough from the first seam to enclose all of the trimmed edge.
Step 5
Turn the pillowcase right side out again and put it on the pillow.
Tip
If you prefer a tailored look, turn the pillowcase wrong side out before making the first seam. The new "French seam" will then end up on the outside.
Warning
Pillow shams with flanges or other upholstery-type features will require much more work to adjust.