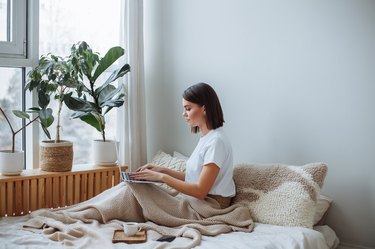 A gap between the bed and wall is a common issue, especially in older houses where the walls and floors aren't perfectly straight or flat anymore. The gap might be an aesthetic issue that simply annoys you when you look at it, or it might be irritating to have pillows and bedding slip into the space between the bed and the wall. With a very young child's bed, a gap between the bed and wall can be a safety concern, as the child might roll into the gap while sleeping. Fixing the cause of the gap is well beyond a DIY project, but there are several creative approaches you can take to solve the problem.
First, Check the Bed Frame
Before spending time and money on solving the problem of a gap between the bed and wall, first check that the bed frame is properly assembled. It's possible that some screws have come loose, and the headboard or part of the frame is no longer straight. Pull the bed frame away from the wall, ideally lift off the mattress and make sure every screw and bolt is present and tight. If you have a headboard attached to a frame, see if it's possible to adjust the height. If you're lucky, making these kinds of minor adjustments to the frame or headboard could close some or all of the gap.
Gaps between the wall and bed are such a common problem that long, wedge-shaped pillows are available specifically to solve it. These vary somewhat in design, but they are generally a triangular wedge shape with a firm foam core and washable fabric cover. They are available to fit all standard mattress sizes. Simply place the wedge pillow along the gap to fill the space. A similar option is a long body pillow, which you can wedge into the gap between the bed and wall.
For a cheaper, custom solution inspired by specialist pillows, cut a block or sheet of craft foam or upholstery foam to the exact size and shape to fit the gap between your bed and the wall. These types of foam both come in different densities, so choose one that suits your particular needs. Use a serrated knife to make the necessary cuts. In some cases, you might place the foam wedge inside a fitted sheet along the side of the bed next to the gap to both conceal it and hold it in place.
A handy, inexpensive alternative could be a swimming pool noodle. These are already long, narrow and pliable and just need to be cut to a suitable length. You can place one or more noodles inside a gap so that you can't see them or arrange them inside a fitted sheet. Pipe insulation, which is similar to pool noodles but available in a wider range of widths, lengths and densities, is also a great choice for a custom gap filler. If you have basic sewing skills, sew a fabric case for a DIY gap-filling pillow to help it blend in with the bedding.
Headboards and Faux Headboards
If you don't already have one, a headboard might be the simplest solution to an annoying gap between a bed and wall. They are expensive, though, and a major decor decision. A less costly, easily replaceable alternative is a faux headboard hung from the wall. Suitable types of hangings include quilts, tapestries, rugs and blankets. Choose a textile with some thickness and hang it so that it falls into the gap between the wall and bed.
Hanging options include a curtain rail or long towel rail mounted on the wall above the bed. Hang your textile from these using clip rings or other curtain hardware or by folding the upper edge over the rail and tacking it down with stitching or fabric glue. You can also find special quilt hangers that clamp onto the upper edge of a textile piece.