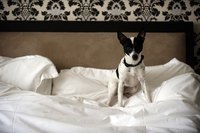 King-size pillowcases are designed for king-size beds. Sometimes a king-size pillow is preferred because of its generous surface, giving the pillow a luxurious, extravagant feeling. Opulent designer pillowcases, enhanced with lace and other decorative embellishments, often come with a hefty price tag. But with some fabric and a few simple items, you can create personalized pillowcases that match your bedroom's decor. Whether you prefer crisp cotton or silky satin, you can make your own custom, king-size pillowcases in a matter of minutes.
Things You'll Need
44-inch wide fabric, 2 1/2 yards
Tape measure
Scissors
Straight pins
Sewing machine
Ribbon or lace
Wash and dry the fabric to accommodate any potential shrinkage.
Lay the fabric on a flat, clean surface. Fold the fabric lengthwise, right sides facing, edges well-matched. Cut the fabric in half widthwise, resulting in two folded pieces, each 45 inches long.
Machine-stitch a 1/2-inch seam along one end width and up the open length on one of your pillowcase fabric pieces. Repeat the process on the second pillowcase fabric piece.
Fold the edges of each pillowcase's opening over by 1/2 inch, then over again by 3 1/2 inches and pin the hem in place using straight pins. Press the hem flat, using an iron adjusted to the appropriate heat setting for the fabric type.
Start 3 1/4 inches down from the fold at the open end on each pillowcase. Stitch completely around each pillowcase, removing the straight pins as you go along. Your pillowcases now have finished hems approximately 3 1/2 inches wide.
Turn the pillowcase right side out. Enhance the pillowcase with ribbon or lace by sewing it around the outside edge of the pillowcase opening.