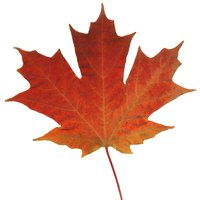 Nature provides a variety of beautiful jewelry-making supplies in the form of leaves. Choose from green spring leaves or fall's beautiful array of colors to make a beautiful pendant necklace. Use a glycerin solution that preserves leaves by replacing their water content. When you preserve leaves using this method, they will remain soft and pliable as they lie softly against your neckline. To enjoy nature's bounty, make necklaces using a variety of leaf colors along with interesting shapes and sizes of leaves.
Things You'll Need
Glycerin
Water
Measuring cup
Scissors
2 plastic foam plates
Weight
Newspapers
Paper towels
Glue-on jewelry bails
Instant glue
Cording
Spring coils (optional)
Clasp (optional)
Pick leaves from plants and trees when they are still fresh and retaining moisture. Pick spring leaves when they are fully open and mature. Pick fall leaves as they start to change color, before they dry out naturally. Pick the leaves when you are ready to preserve them to prevent drying.
Cut off the tip of the stem of the leaf to help it absorb the glycerin.
Place the leaves on a plastic foam plate. Position the leaves so each has room to be covered with the solution. Use more than one plate, if needed, for additional leaves.
Make a glycerin and water solution using 1 part glycerin and 2 parts boiling water. Make only enough solution to cover the number of leaves you are working with at a time. One cup of solution is enough to cover several leaves. Allow the solution to cool to a lukewarm temperature.
Pour the solution over the leaves. Check that each leaf is submerged in the solution and that the top of the leaf is completely covered. Do not overfill the plate.
Place a second plastic foam plate, bottom down, on top of the leaves. Be sure the solution does not overflow.
Sit a weighted object on top of the plate to keep the leaves in the solution. Use an item like a dinner plate or a heavy mug to weight down the top plate. Leave it for about one week.
Remove the leaves and place on a newspaper to absorb the excess solution. Allow to sit for two or three days until dry. Wipe with a paper towel to remove any residue. Allow to dry thoroughly.
Glue the jewelry bail onto the back of the leaf using instant glue.
Cut a leather or satin cord to the length desired for the necklace and thread through the bail.
Add a clasp to the ends of the cording, if desired, or tie the ends securely to finish the necklace. Attach the end of the cording to jewelry spring coils of the same diameter. Secure with a drop of instant glue, if needed, then add your clasp to the coils.