Things You'll Need
Tape measure

Scissors

Black construction paper

Tape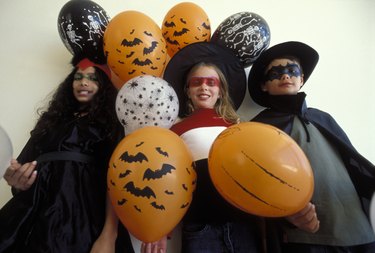 The Spanish gaucho hat is an iconic round, flat-brimmed hat that can provide the finishing touch for a variety of costumes or outfits. Children can use this Spanish hat in costumes for school plays or as an easy cowboy hat when playing pretend. You can also use it as a Zorro hat for a Halloween costume. You can wear a black outfit and combine the hat with a black mask, cape and prop rapier to create the full costume.
Step 1
Measure the front-to-back length of the head of the person who will wear the hat.
Step 2
Stack four sheets of black construction paper and cut a quarter circle out of all four sheets simultaneously. The radius of the quarter circle should be half the length of the wearer's head. Tape the four quarter circles together into a circle to form the top of the hat.
Step 3
Make another curved cut in the stacked sheets, cutting about 3 inches outside the original cut to form a hat brim in four pieces. Tape the pieces together into a ring to create the hat brim.
Step 4
Cut a sheet of black construction paper lengthwise to create two long strips of paper. Tape the narrow ends of the strips together to create one extra-long strip. Trim it to a length that matches the inner circumference of the hat brim, then tape the other ends together to form a loop.
Step 5
Assemble the hat by taping the circular top of the hat to one side of the loop and the brim to the other side, applying 1- to 2-inch strips of tape every 3 inches around the inside of the loop.
Tip
For a sturdier but more time-consuming approach, make the hat out of cardboard and glue black construction paper to all the visible surfaces or paint the cardboard black.