Things You'll Need
Tulle

Stabilizer

Scissors

Press cloth

Decorative edging

Cloth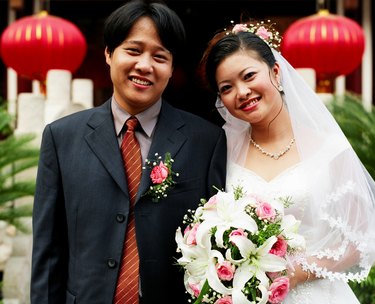 For some brides, tulle is a must-have item on their list because it usually inexpensive and its easy to work with. This fabric has a slightly netted appearance that adds a soft, elegant touch to a wedding ceremony venue or a reception venue. Another use of tulle is to make the dresses of the bridal party look fuller. And of all the uses of tulle, it is a popular fabric to create bridal veils. If you are making your own bridal veil, sew the edges to give it a professional finish.
Step 1
Fold over the edge of the veil that you want to work on.
Step 2
Cut a water soluble stabilizer into 1-inch strips. Place a strip underneath the folded edge and another strip on top of the folded edge. The stabilizer will make the tulle firmer so its easier to sew on. Tulle used for veils is usually thin and flimsy which makes the fabric shift or bunch up when sewing on it.
Step 3
Align a press cloth over the stabilizer strips on the folded tulle. Using a low-heat setting, iron the stabilizer to the tulle until it is securely attached.
Step 4
Sew the decorative edging that you want such as cord or ribbon onto the tulle.
Step 5
Dampen a cloth with water and blot the sewn stabilizer gently to dissolve it.