Fall is in full swing and Thanksgiving is just around the corner, so it's time to bring out the seasonal pies! While we may never see the end of the rivalry between pumpkin pie and sweet potato pie, one thing's for certain: To make a fantastic pie, you need excellent baking tools. Whether you're a ride or die for sweet potato pie or have pledged your loyalty to pumpkin, if you're a baking enthusiast set on making not just good, but amazing pies—buttery, moist yet flaky and baked to Goldilocks perfection—you've got to give these must-have baking tools a try.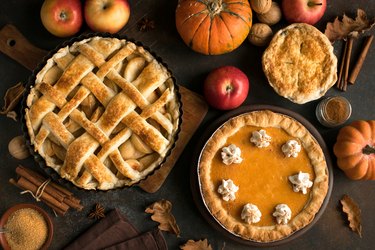 1. Best Rolling Pin: HELFERX 15-Inch Stainless Steel Rolling Pin
This stainless steel rolling pin may look like a far cry from the traditional American wooden pin, but it's no slouch. In fact, its handleless design—a growing trend in modern and professional kitchens—actually makes it easier to maneuver, which goes against intuition, but really works. The list of positives continues: Since it's made of stainless steel, its nonstick surface gets cold while you use it, keeping pie dough cool and further minimizing sticking (Pro tip: use cool butter to get flakier crusts). Plus, it's dishwasher-safe and fungus-resistant, so cleaning is a breeze. It measures 15 inches long, giving you plenty to work with when rolling pie dough or even pizza dough. If you've never ventured beyond your traditional wooden rolling pin with handles, give this discovery a try.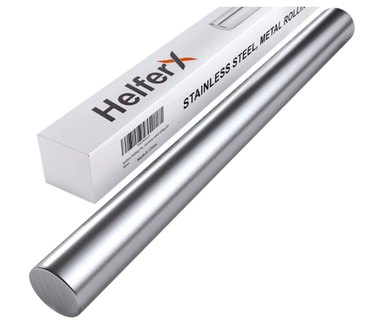 2. Best Pie Crust Cutter: Tovolo Precision Pie Crust Cutter With Measurement Guide
Once you've rolled out your crust dough, you need to shape it. This pastry compass from Tovolo makes it as easy as pie. The nylon pastry wheels deftly cut through dough and create a perfect circle every time. A ruler engraved onto the rotating arm helps you measure, and the sliding guide locks it in place. It also comes equipped with four different edge cutters. With this convenient tool, you can make perfect pie crusts for baking dishes ranging from as little as 2 inches in diameter to as large as 14 inches, giving you plenty of options. If only we could use the compasses in geometry class for something so delicious!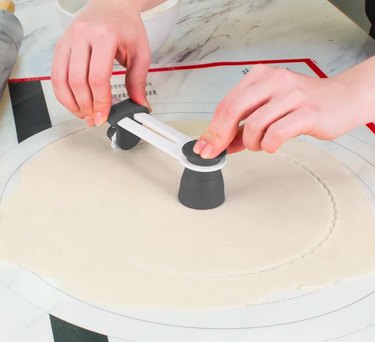 3. Best Pie Plate: OXO Good Grips Glass 9-Inch or 11-Inch Pie Plate
While there's nothing wrong with disposable pie tins, which come in handy when you're gifting pies, this glass pie plate from OXO is our pick because there are so many pluses to it.
First, its glass surface conducts heat gently and evenly, resulting in superior, flaky crusts. Second, its see-through bottom allows you to check the doneness of your pie. Third, its wide rim helps you easily take it out of the oven without getting your oven mitts in the pie itself. Fourth, it's made of thick borosilicate glass (instead of the more common tempered glass) that's resistant to thermal shock, meaning you can put it straight in the freezer with a lower risk of breaking. Fifth, it's microwave- and dishwasher-safe. And sixth, it comes with a vented plastic lid that helps prevent the pie from becoming soggy (but if you're afraid of losing too much moisture, you can simply put a kitchen towel over a couple of its four holes).
The plate is 2 inches deep, offering more volume than many other plates, and available in 9-inch or 11-inch diameters. If you're not giving a pie away, this pie plate checks all the boxes and then some.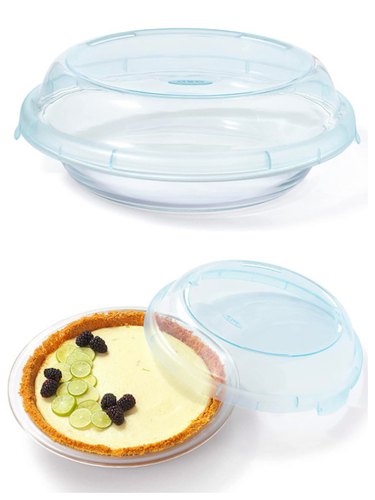 4. Best Pie Weights: Mrs. Anderson's Pie Weights & Pie Crust Weight Chain
Pie weights are especially useful when "blind baking" (pre-baking just the crust for ultimate flakiness) to keep your pie shell from puffing up and then deflating, which would leave it a wrinkly mess. These popular pie weights from Mrs. Anderson's Baking Store come as little ceramic balls or as a long chain of stainless steel beads. The ceramic balls are heat-resistant up to 480 degrees Fahrenehit, while the pie weight chain is safe up to 475 degrees. The 6-foot chain is plenty to weigh down the crusts of 8-inch to 10-inch pies, and each chain weighs about 5 ounces. We recommend getting the set of two on Amazon, as it's a much better deal than getting just one.
Tip
Line your pie shell with parchment paper before filling it with the pie weights. This will prevent them from sticking to the dough, and also make them easier to remove. Pour them in a heat-safe bowl when finished to cool down.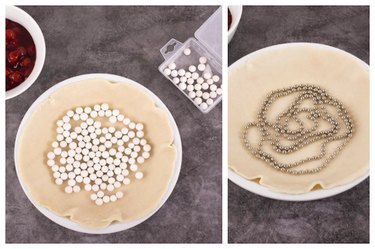 5. Best Pie Crust Shield: Nordic Ware Adjustable Pie Shield, Metal
If you've ever run into the problem of the edges of your crust overcooking while the middle of your pie is still a soupy consistency, then this adjustable pie shield by Nordic Ware is the answer to your pie prayers. Made from aluminum, the ring is heat-resistant up to 400 degrees Fahrenheit and adjusts to fit pies from 8 inches to 10 inches in diameter. Say goodbye to burnt edges and hello to delicious, evenly-baked crust!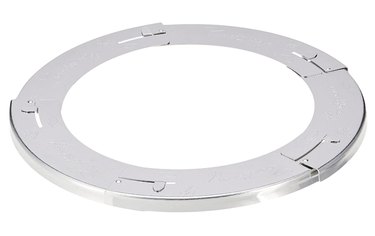 Honorable Mention: Adjustable Pie Shield, Silicone
We also like this silicone pie shield available at Bed Bath & Beyond that adjusts from 8 inches to 11 1/2 inches in diameter. You simply secure the tab lock into a notch, depending on how big your crust is. It's also heat-resistant and dishwasher-safe.