Things You'll Need
Measuring tape

Compass

Black or brown felt

Scissors

Hot glue

White acrylic paint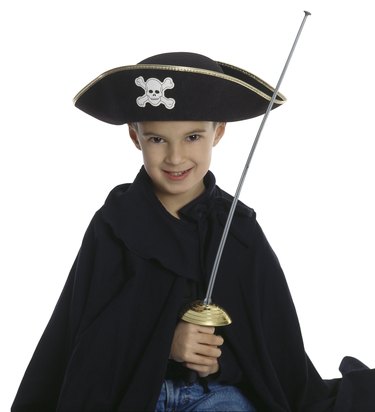 No self-respecting pirate would be caught dead without the proper headgear, so channel your inner seafaring swashbuckler by creating a tricorn hat fit for Black Beard himself. Don't worry, you don't have to master the art of millinery to construct this simple craft, nor will you have to empty your piggy bank; this project is fairly simple to complete in a short period of time, and it only requires a handful of inexpensive, easily accessible materials to keep you from shelling out on supplies. Before you know it, you'll be ready to hit the high seas in style.
Step 1
Measure out a strip of felt that is 22 inches long and 3 inches wide with your measuring tape. Cut out the strip and roll it into a band around your head to ensure a good fit. Hold the edges together as you remove the band from your head, then hot glue them securely together.
Step 2
Place the band on top of the remaining felt and trace the outline of the circle onto the fabric. Measure about one inch out from that circle and draw another circle; cut along this line to remove the piece from the felt. Cut triangular notches along the one-inch outer circle to create tabs; fold the tabs down, apply hot glue to them and insert the circle into the top of the band to create the top of your tricorn hat.
Step 3
Draw another circle on the remaining felt that is twice as large as the hat band. Cut this shape out of the felt. Trace a circle that is smaller than the hat band by one inch in the center of the large circle. Cut the circle out to get a donut shape. Create more triangular notches around the inside of the donut to make tabs, then hot glue them to the bottom edge of the inside of the hat band.
Step 4
Lift up the three edges of the brim of the hat and hot glue them to the top of the hat band; this should form a triangular shape when viewed from above.
Step 5
Paint a white skull and crossbones on the hat or add other decorative embellishments if desired. Allow two to four hours' drying time before wearing if you use acrylic paints on the hat.
Tip
The hat measurements may be adjusted according to head size. If you don't wish to use hot glue, you may also use staples, tape or needle and thread.