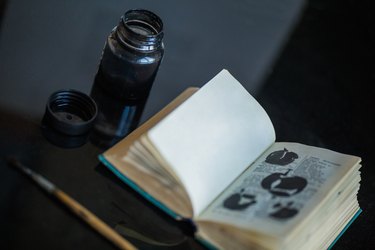 Louis Vuitton products, especially bags, are the best of haute couture. They're handmade, beautiful and designed to last a lifetime. Still, if you use yours frequently, it's bound to get dirty or even stained from things like makeup and pens. There are multiple methods to clean the inside of a Louis Vuitton Speedy bag, and they should work for cleaning the inside of other bags too.
Cleaning the Inside of a Louis Vuitton Leather Bag
You will need milk, cornstarch, hair spray, paper towels and unscented baby wipes for the first method. First, empty the bag of all contents, including the zipper pockets, shaking it to get out any debris. If there are dust, dirt and crumbs in the bottom, you can clean it with an unscented baby wipe. Then, create a paste from approximately equal parts of milk and cornstarch. You might need to add a bit of extra cornstarch to make it thick enough.
Apply the milk and cornstarch paste to the ink or makeup stain inside the bag and let it sit overnight to draw the stain out of the leather. If the stain remains, spray it with hairspray, let it sit for a few seconds and then wipe it with a dry paper towel before the hair spray dries. Finally, wipe out the bag's interior with unscented baby wipes to remove any remaining residue and then wipe it with damp paper towels. If the stain is still visible, repeat these steps or try the next method.
Another Method for Leather Stain Removal
The second method for cleaning the inside of a leather Louis Vuitton bag uses some of the same items, but the primary cleaning agent is laundry detergent. You'll need unscented baby wipes, mild laundry detergent, damp cloths and hair spray. First, you should empty the bag and shake it out and then wipe down the entire interior with unscented baby wipes. Take a damp cloth and apply a few drops of mild laundry detergent. If you're worried about soap residue buildup, apply the drops, rinse and wring out the cloth.
Gently scrub the stain using a soapy cloth. This rubbing should remove the majority of the stain but be extra careful not to rub too vigorously or you might end up damaging the leather. Finish the stain removal by misting a small amount of hair spray and wiping with another clean, damp cloth. Repeat as necessary until you have lifted the ink, makeup or other stains.
Caring for a Louis Vuitton Bag
Sometimes, stains are inevitable, but there are many methods you can use to avoid them in the first place. One crucial step is to try to prevent stains by keeping items such as pens and makeup tightly sealed or even enclosed in a plastic bag inside your purse. Be especially careful when you carry items that could permanently damage the leather. Two of the most common are alcohol-based hand sanitizer and perfume.
Be very careful about where you set down your bag and try to avoid rubbing it against fabric, walls and other surfaces. When you are not actively using it, store your bag in the felt pouch you received upon purchase. Keep in mind that the leather on a Louis Vuitton bag will darken over time. This darkening is natural, and it may cover some of the stains that show up more clearly during the first couple of years.