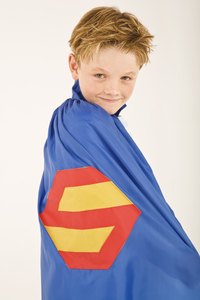 Turn a paper tablecloth into a superhero cape for dress-up fun in less than half an hour. Make a cape for one child or make multiple capes with children for a party craft. Allow each child to cut out paper or felt patterns to decorate his cape, or draw with markers directly on the cape. No sewing is necessary to make a paper cape.
Things You'll Need
Paper tablecloth
Measuring tape
Scissors
Stapler and staples
Construction paper
Markers
Glue
Plastic ribbon
Spread out a paper tablecloth on the floor. Drawing lightly with a pencil, mark the top edge of the tablecloth with an A, mark one side with a B and the bottom with a C. Beginning at the corner that makes angle ABC, lay a yardstick or tape measure along side C. Mark at 30 inches.
Take hold of the side marked B and fold the tablecloth over until it meets the 30-inch mark. Cut the tablecloth along the 30-inch line.
Leave the recently cut rectangle folded. Measure at the side marked A, beginning at the fold. Place a mark at 10 inches.
Fold the cut edges of the rectangle, the cape, back toward the fold from the 10-inch mark. Angle the fold so the side marked C does not fold. Alternatively, lay a yardstick from the 10-inch mark to the bottom corner on the cut edge, C.
Cut the angled piece off of the cape. This creates a cape that is narrower at the top than it is at the bottom.
Turn down approximately 2 inches at the top edge of the cape. Finger press the fold.
Make a ribbon for the cape ties. Use store bought ribbon, use the plastic ribbon out of a garbage bag or cut a ribbon out of plastic or fabric. The ribbon should be approximately 1 inch wide and 36 inches long.
Lay the ribbon inside the fold, making certain the ribbon touches the crease and does not drop down to the open edge of the folded piece. Staple the fold in place, creating a casing for the ribbon.
Allow children to draw and cut out their own superhero monograms and designs, or design your own. Glue cutouts to the cape. Use markers to decorate the cape, if desired.