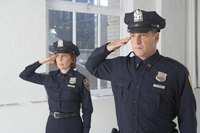 Making a police officer's hat is useful for schools, theaters and costume parties. Make police hats on career day or when a police officer comes to talk to the class. If you or your child is having a costume party, add to the costume by making your own police hat. To cut costs on theatrical productions, make your police hats out of paper.
Things You'll Need
Flexible measuring tape
Construction paper in your choice of color
Scissors
Measure the circumference of your head using the flexible measuring tape.
Cut a rectangular band that is 1 1/2 inches high from the construction paper in a color of your choice using scissors. Make the length equal to the width of your head plus 1 inch. Bring the ends of the band together so they overlap by 1/2 inch. Staple the ends together. This is the base of the hat.
Draw half an oval 3 inches in length on construction paper. Add 2 square inches to the end of the oval. Cut out the shape. Fold the shape by the middle of the oval where the 2-inch addition starts.
Glue the oval shape to the rectangular band by gluing the 2-inch part to the band. This is the brim of the hat.
Draw a circle with a diameter that is half your head measurement plus 1 inch and cut out the circle. This will be the top of the hat.
Cut 1-by-1-inch tabs all around the circle and bend down the tabs. Glue the tabs to the inside of the rectangular band.
Print out a police insignia and glue it to the front of the hat above the brim.