Things You'll Need
3 spools ribbon in different colors, 3/8 inches wide

Plastic flowers

Scissors

Needle

Matching thread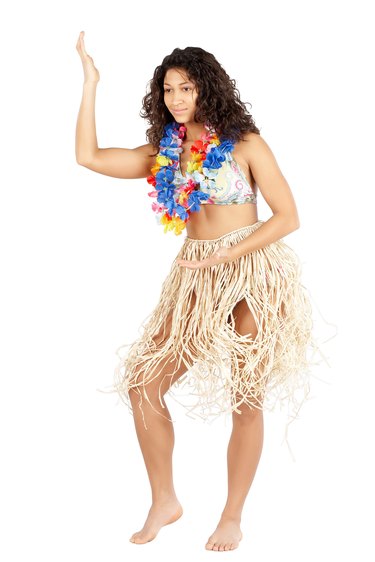 Leis are traditional Hawaiian necklaces made from tropical flowers. Leis are given to visitors as a token of welcome when they visit Hawaii. Leis have become synonymous with luaus and other summer party celebrations. Make these easy-to-craft ribbon leis if you are having a party or celebration and would like to welcome guests with a lasting keepsake. Colorful ribbon leis will put your guests in the right mood, brighten up the party and give them something to take home and keep as a memento of your special day.
Step 1
Cut 6 yards of each of the ribbon colors.
Step 2
Thread the needle with 4 feet of thread and tie it off 6 inches from the end of the thread. Push the needle through the edge of the first piece of ribbon.
Step 3
Pull the ribbon up so that it lays alongside the needle. Make your loops all the same length by measuring one needle-length of ribbon. Push the needle through the ribbon one needle length from the first stitch to make a loop in the ribbon.
Step 4
Measure another needle-length of ribbon and sew through the other side of the ribbon so that the loop is on the opposite side of the needle. Continue to measure and sew until the entire ribbon is looped onto the thread.
Step 5
Cut the plastic flowers from their stems. Sew through the base of a plastic flower to separate the colored ribbon sections.
Step 6
Sew the end of the second ribbon onto your lei and continue to make the loops. Add another plastic flower and then start on the third ribbon.
Step 7
Tie off the lei thread about 6 inches from the end. Tie the two 6-inch ends together so that the ribbons touch.
Tip
Match the lei ribbon colors to your theme. Use bright colors to add flair to your party. This is a very labor intensive exercise. Leave plenty of time to make these if you have many party guests, or reserve them for the guests of honor only.