Things You'll Need
Fabric measuring tape

Scissors

Pins

Elastic band material

Tulle fabric

Sewing machine

Ribbon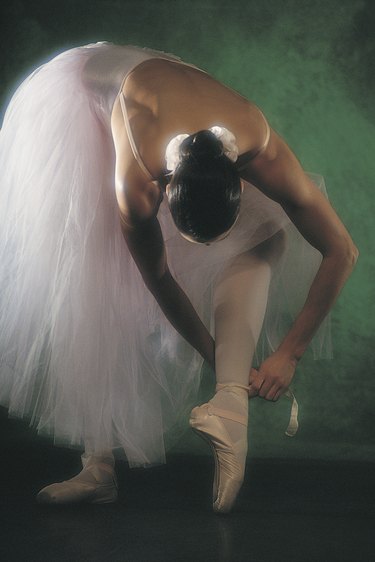 Tutus have been a staple of stage ballet costumes for centuries and recently have come into fashion for anything from a casual skirt to a cocktail dress alternative. Romantic tutus hail from Romantic ballet and were created to emphasize the lightness of the dancer. Unlike the short tutus found in other types of ballet, Romantic tutus are designed as long, flowing skirts formed with several layers of tulle fabric, which is a very fine, lightweight and soft fabric netting. Recently, these tutus have found their way into modern fashion, with tea-length Romantic tutus mimicking the tutus of the Romantic ballet, but in a length that can vary between designers.
Step 1
Measure the circumference of your waist and the length needed for the skirt using a fabric measuring tape. Tea-length Romantic tutus usually extend three-quarters of the way down your legs, ending just below your knees.
Step 2
To determine the amount of fabric needed, multiply the desired tutu length by as many layers as you wish your tutu to have. Tutus can vary from three layers to more than a dozen and the number of layers determines the fullness of the tutu. More layers will create a fuller look, but also create a stiffer tutu due to the amount of tulle fabric. Aim for between four and six layers to begin with and add more if needed.
Step 3
Purchase the fabric and elastic according to your measurements. You can purchase single-color tulle for a classically formal look, or a variety of colors or shades and layer them to create stunning effects. Purchase an elastic band roughly 4 inches longer than your waist measurement to allow for overlap. Use scissors to cut to size, if required.
Step 4
Cut the tulle fabric into long rectangles the length of the tutu. Lay the elastic band on a table and begin to layer the long rectangles of tulle vertically from it, leaving an inch of extra elastic on either end. Use pins to fasten the tulle layers in place, replacing them as you continue to create layers of fabric.
Step 5
With the tulle pinned to the elastic, use a sewing machine to stitch the skirt together. With all the tulle sewed to the elastic, connect the two ends of the elastic band together so that part of the tutu lies on top of itself. Sew the band together to create the tutu's waistband.
Step 6
Put the tutu on, arranging the tulle as you see fit. Finish by wrapping a ribbon around your waist and tying it in a knot. Pair with a slip or bodice to finish the ballerina-like look.