Things You'll Need
Shoulder and elbow pads

Jersey

Tape

Iron-on letters

Pants

Shin guards

Long socks

Tape

Black eyeliner

Hockey helmet or, if lacking one, a bicycling or skateboarding helmet

Hockey stick

Hockey gloves, oven mitts or gloves

Face mask

Axe

Fake blood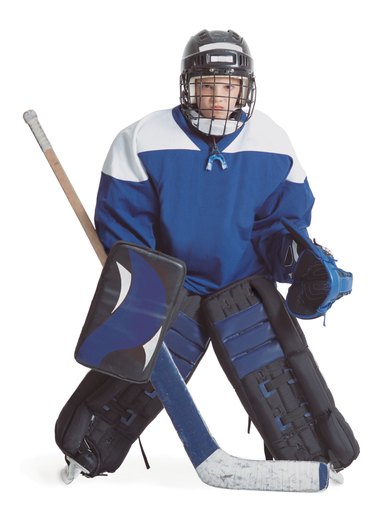 Whether your guy or girl wants to dress up as an athletic hockey player, say a favorite National Hockey League player, or a scary axe-bearing one, assembling the costume requires acquiring items specific to the sport. These items can be found at sports equipment or thrift stores or, perhaps, be borrowed from a hockey-playing friend. One thing, though, don't wear skates. Using them on any surface other than ice will damage the blades.
Step 1
Put on a pair of shoulder pads for the first layer of the costume. Strap on elbow pads, too. Layer an oversized jersey on top of the pads. Put a name across the back of the jersey with tape or iron-on letters.
Step 2
Wear sweatpants or cut-off pants with long socks for the bottom part of the costume. Wear shin guards under the socks or sweatpants. Wrap tape just above and below the knee to keep the socks up on the legs.
Step 3
Darken a few of your front teeth with black eyeliner to look like some were knocked out in previous hockey games.
Step 4
Wear a hockey helmet. If you don't have one, a bicycle or skateboarding helmet will do.
Step 5
Accessorize the costume with a hockey stick. Wear hockey gloves. Oven mitts or any mittens or gloves will work, too. Add a face mask and a plastic axe. Applying fake blood to the clothes creates a scarier costume.