Things You'll Need
1-inch elastic

Needle

Thread

2, 1-dozen foam egg crates

Duct tape or masking tape

Paint

Paintbrush

Cardstock paper

Craft glue

Cardboard (optional)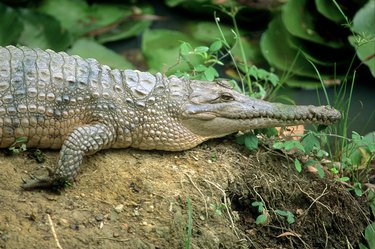 A crocodile mask is a craft that children can make during a unit study on crocodiles, after reading a story about crocodiles, as a mask for a play or dress-up or as a way to use up time when children are bored. The crocodile differs from the alligator in that some of the teeth are visible when the mouth is closed and the crocodile has a slightly smaller snout. Making the crocodile mask is not difficult, but due to drying time, will take at least two to three hours to complete.
Step 1
Cut an elastic band equal to the same circumference as the child's head. Sew the two sides of the elastic together, overlapping the ends about one inch.
Step 2
Cut the tops off of the egg crates. Sandwich the crates together. Tape the crates together along one small end with duct tape or masking tape. Paint the crates green and allow them to dry. Paint two black nostrils on the top of the egg crates on the non-taped side.
Step 3
Cut two crocodile eye shapes from the cardstock paper. Glue the eyes to the top of the taped end of the egg crates. Cut some triangular teeth from cardstock and glue them along the edges of the mouth.
Step 4
Tape the egg crates to the elastic band. Place the elastic band over the child's head, positioning the crocodile mask in the center of the forehead. If the mask droops, stabilize it by adding a vertical strip of 2-inch wide cardboard glued to the egg crates over the elastic band to sandwich the elastic between the cardboard and egg crates.