Things You'll Need
Blouse

Blazer

Pencil skirt

Tights

Dress shoes, pumps or heels

Scarf

Makeup

Paper

Scissors

Markers

Tape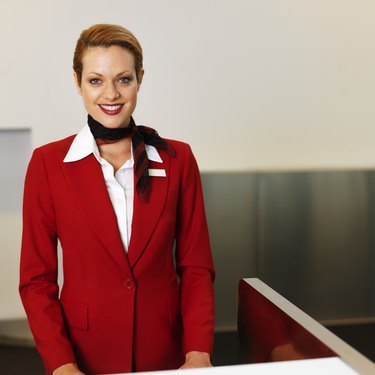 Prepare for take off this Halloween with a snazzy flight attendant costume. A flight attendant costume has a sophisticated, distinguished look that is perfect for both adult women and girls. To dress up like a flight attendant, simply visit a thrift shop or department store like Wal-mart or Target to purchase items of clothes that you can easily use again.
Step 1
Find a white blouse. Layer a solid colored blazer on top. While any shade will work, a navy blue or bright red blazer will look the most like a flight attendant's uniform.
Step 2
Slip into a pencil skirt that is the same color as the blazer. Underneath, wear nude or white tights. Alternatively, instead of a skirt, wear slacks.
Step 3
Don dress shoes, such as slip-on pumps or heels. Stick to classic styles and colors, since flight attendants are not allowed to wear shoes that are particularly flashy.
Step 4
Wrap and tie a silk scarf around your neck. Wear the scarf on the outside of the blazer or tuck it into your shirt.
Step 5
Pull back your hair. A classic up-do, such as a bun, chignon or French twist looks the most like a style worn by flight attendants.
Step 6
Put on some make up. Some lipstick, a little mascara and some rouge helps you look a little made up without going too over the top.
Step 7
Create a name tag. Trim down an index card so it is the size of a name tag, or about 1 1/2 inches by 3 1/2 inches. Use a marker to write the name of an airline, either real or made up. Below, write your own name or a fake name you'd like to use for the costume. Tape the name tag to your blazer.