Things You'll Need
6 white, plastic tablecloths

6 red, plastic tablecloths

Twine

Pushpins

24-inch box

Box cutter

Black spray paint

Stuffed animal

White string

Paper towel roll

2 eye hooks

Tape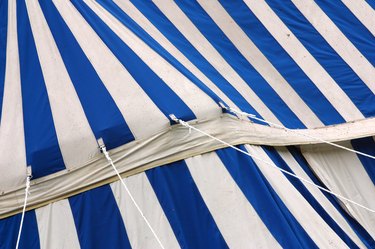 Adding decorations to a party adds to the overall feel of the theme. For example, decorating your home with circus-themed props turns your party venue into a virtual big top. Instead of spending a lot of money on store-bought props that you may never use again, make your own at home with everyday products. Making your own custom circus props requires little effort, allowing you to create decorations to fit your party needs.
Tent
Step 1
Gather in a bunch one of the short ends of a 9-foot white, plastic tablecloth together. Tie a piece of twine around it, 1-inch from the end. Repeat the process with five more white tablecloths and six more red plastic tablecloths.
Step 2
Attach the gathered ends of the tablecloths in the center of the ceiling in the main party room, using pushpins. Alternate the placement of red and white to create the circus-tent stripe pattern.
Step 3
Stretch a white tablecloth to one of the walls, spreading the tablecloth out. When you reach the corner of the ceiling, use pushpins to attach the tablecloth to the wall, allowing the end of the tablecloth to drape down. Repeat the process with the remaining tablecloths, stretching them out to cover all four walls.
Step 4
Cut a slit in the center of any tablecloth that covers a doorway to make it easy to pass in and out of the room.
Animal Cages
Step 1
Draw a 22-inch square on the side of a 24-inch box, leaving a 1-inch border around the edge of the box. Draw vertical lines inside the square every inch.
Step 2
Use a box cutter to cut the spaces out between every other line to create 11 1-inch bars.
Step 3
Spray paint the surface of the box with black spray paint. Let the box dry overnight.
Step 4
Place a stuffed animal in the box, such as a tiger, monkey or elephant. Alternatively, use cardboard animal cutouts for your animal cages.
Step 5
Repeat the process with additional boxes to create however many cages you want.
Trapeze
Step 1
Cut a 5-foot length of white string.
Step 2
Feed the string through the center of an empty paper towel roll. Center the roll on the string.
Step 3
Attach two eye hooks to the ceiling, spacing them 12-inches apart. Tie the loose ends of the string to the eye hooks. If desired, secure a stuffed animal with tape or twine to the paper towel roll to create a trapeze artist.