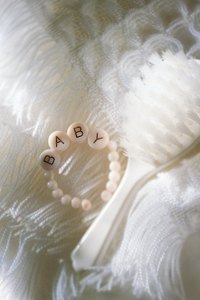 Add a customized monogram to the corner of a large blanket to give to a newlywed couple or add a new baby's name to a baby blanket to give to a new mother at her baby shower. You can hand-embroider the letters onto the blanket with no special equipment for a personalized keepsake gift. Use an embroidery thread that blends in with the color of the blanket for a subtle embellishment, or use a contrasting color to make the custom adornment stand out.
Things You'll Need
Lightweight stabilizer
Adhesive spray
Wash-off fabric pen or chalk
Letter stencils (optional)
Embroidery hoop
Embroidery floss and needle
Lay the blanket on your work surface with the section to be embroidered directly in front of you. Spray a piece of lightweight stabilizer with a temporary adhesive spray and slide it beneath the blanket. Press firmly to attach the stabilizer.
Write the name on the blanket with a wash-off fabric pen or a piece of chalk. Use letter stencils to create decorative letters if you like.
Slide the blanket into an embroidery hoop and screw the hoop closed gently. Do not let the blanket fabric stretch.
Separate two or three strands of the floss and thread them together onto the embroidery needle.
Push the needle through from underneath the blanket and through the bottom of the first letter. Move the needle forward 1/8 inch and push the needle through the fabric to the underside. This is the first stitch.
Make your next stitch to begin the back stitch, an easy method for beginner embroidery. From underneath the blanket, move the needle forward 1/8 inch and sew toward the top of the fabric. Move the needle backward 1/8 inch to the end of the first stitch and sew down to the underside. Repeat this stitch along the first letter. End the stitches on the wrong side of the blanket.
Move the thread over and begin at the bottom of the next letter, or thread a new piece of floss onto the needle and begin the second letter anew. Repeat until all the letters are embroidered onto the blanket.
Release the hoop and cut off the stabilizer around the letters. Pull on the little pieces of the stabilizer that remain to remove them from the blanket. Do not tug too hard to avoid tugging on the embroidered stitches.