Things You'll Need
Scissors

6 inch by 9-inch construction paper (white, brown, gray, orange, red and yellow)

Glue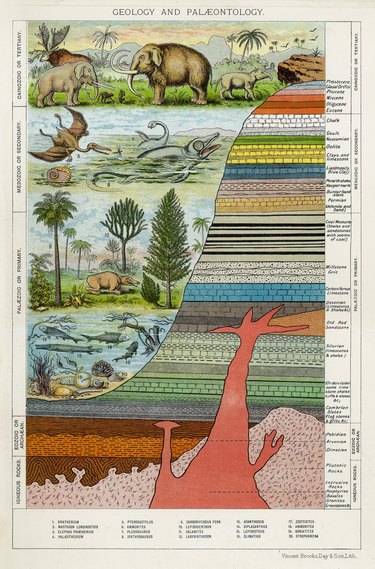 Creating a construction paper volcano is an engaging way to introduce young children to the concept of volcanic eruptions. As you work, you can talk about the difference between a mountain and a volcano, what lava is, why volcanoes erupt and what effects a volcanic eruption can have on the surrounding environment.
Step 1
Cut a triangle of gray construction paper that is 2 inches wide and 3 inches high to make the ash cloud from the volcanic eruption. Round the corners and trim its edges in a wavy or scalloped pattern to look like billowing ash. Glue it point downward onto the white construction paper, with the base of the triangle centered about 1 inch from the top of the page.
Step 2
Cut a triangle out of brown construction paper that is 5 inches wide and 5 inches high, then trim off the top with a concave curved cut. Glue the volcano to the white paper with the peak of the volcano covering the base of the smoke.
Step 3
Cut strips of red, orange and yellow construction paper 1/2 inch wide and 4 inches to 6 inches long. Tear a few red strips into halves or thirds and glue them onto the mountain with one end at the peak to represent lava flows. Accordion fold additional strips and glue one end of each strip to the peak of the volcano to make a springy, three-dimensional eruption of lava.