Things You'll Need
1 wire coat hanger

Newspaper

Masking/duct/electrical tape

Evergreen branches

Hot glue gun

1 6-inch piece of velvet or satin ribbon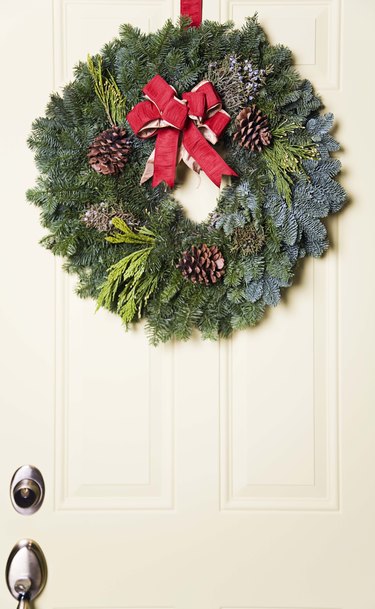 Holiday and decorative wreaths are a beautiful addition to any front door, but an expensive purchase. When you make a simple wreath for the front door using easy-to-obtain materials, you not only save money but also add a personalized touch to your decorations. Wreaths may be made with greenery you collect outside the house and common items you can collect from the inside of the house, and no one will ever know you didn't spend lots of money at a store.
Step 1
Untwist a standard wire coat hanger but leave the hook bent.
Step 2
Bend the hanger into a circle and re-twist one end of the wire around the base of the hook to close the loop. Do not be distressed if the wire shows some crimping from its previous shape; this will be covered.
Step 3
Roll newspaper pages around the wire to completely cover the circle. Secure the newspaper with masking, electrical or duct tape.
Step 4
Attach greenery to the newspaper with a hot glue gun. Place beads of glue at the end of the stem, the top of the stem and on two to three points along the middle, then press and hold firmly against the newspaper. Branches to use for greenery may be taken from evergreen hedges or trees.
Step 5
Attach pinecones and other decorative elements (nuts, sprigs of berries, etc.) by placing one to two beads of hot glue at the base and firmly pressing it into place on the wreath; try to find a bare spot of newspaper or tape instead of securing the decorations to the greenery itself.
Step 6
Add ribbons, bows and other elements you like to the wreath using the hot glue gun.
Step 7
Place a line of glue on the back of a 6-inch piece of velvet or satin ribbon in the color of your choice.
Step 8
Wrap the ribbon around the coat hanger hook, starting at the base and working your way to the end. Hold the ribbon in place for two minutes to allow it to adhere to the hook.
Step 9
Secure the end of the ribbon by adding a short line of glue to the back and wrapping it once or twice around the base of the hook. The finished loop will no longer look like a coat hanger, and your wreath is ready to hang.
Tip
Exercise caution when using a hot glue gun, and do not place the heated gun or glue on fabric or carpet that may burn or melt.