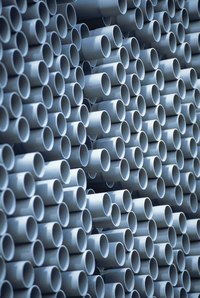 When taking portraits of friends and family, creating a proper background is crucial to the success of the pictures. Many professional photographers use curtain backdrops to control what is seen behind the subjects of the picture. You can build a simple stand for a curtain backdrop out of PVC pipe and a few joint pieces. Once you have finished building it, the stand can be broken down and reassembled in minutes.
Things You'll Need
Vise
2-inch PVC pipe
Hacksaw
PVC glue
4-way PVC joints (2)
PVC elbow joints (4)
Clamp 2-inch PVC pipe in a vise and cut four 10-foot sections with a hacksaw. Cut four additional 1-foot sections.
Apply PVC glue into the opposite flanges on a 4-way PVC joint, then insert 1-inch pipe sections. Repeat this process with the other two 1-foot pipes and another 4-way joint. Allow the glue to dry.
Insert an elbow joint onto each end of one 10-foot section of pipe, then insert additional 10-foot pipes into the other flanges of those elbow joints to create a large "U" shape.
Insert the final 10-foot pipe into the side flanges of the 4-way joints. The pipe will lay perpendicular to the 1-foot pipes, forming a long "H" shape with the final flanges pointing up.
Insert the ends of the "U" shape into the upward-facing flanges on the "H." The result is a square frame that is held vertically by the 1-foot supports on the bottom.
Glue an elbow joint to the ends of each 1-foot pipe, facing downward, to act as feet for the stand. Allow the glue to dry.