Things You'll Need
Canvas drop cloth

Iron

Scissors

Acrylic gesso

Carpet tape

Pencil

Painter's tape (optional)

Plates and bowls (optional)

Acrylic paint

Paintbrush

Paint roller (optional)

Polyacrylic varnish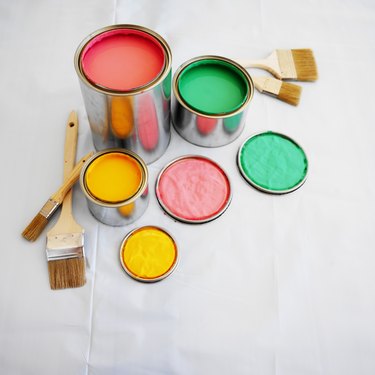 A painter's drop cloth can do more than just protect the floor from home improvement mess, it can be turned into a customized floor cloth. Durable and easy to care for, a hand-painted floor cloth can be used like a rug for high traffic areas such as the kitchen or even the patio. You can clean it up just by sweeping or mopping with soapy water. Because you choose the colors and the design, a drop cloth turned floor cloth makes a practical and beautiful addition to the home.
Step 1
Cut a canvas drop cloth to size, allowing for a 2-inch hem on all sides. Iron it to remove wrinkles.
Step 2
Paint both sides of the canvas with an even coat of acrylic gesso to prime it. Allow the gesso to dry.
Step 3
Fold a 2-inch hem all around the canvas and affix it using carpet tape.
Step 4
Mark your design using a pencil. For perfect circles, you can trace around plates or bowls. Use painter's tape to get straight, crisp lines.
Step 5
Paint the design using acrylic paint and a paintbrush. Use a roller for large areas. After finishing the motif, remove any painter's tape and touch up the edges with a small paintbrush. Allow the floor cloth to dry thoroughly.
Step 6
Seal the floor cloth with a polyacrylic varnish. Apply three coats, letting the varnish dry between each coat.
Tip
Use a rug gripper under the finished floor cloth to keep it from sliding.