Things You'll Need
Vacuum cleaner

2 tsp. mild detergent

Water

Bucket

Stain remover

White cloth

Water hose

Sponge or mop

Rubber squeegee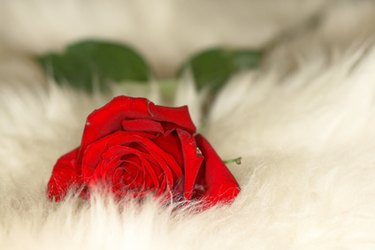 A beautiful white rug can add warmth and elegance to the floor of your home. White rugs can be intimidating to take care of, but with the right precautions your rug can last many years. Protecting your white rug from common rug problems like pet stains, vacuum cleaner damage and sun damage can add many years of life to your rug. If you have a large-sized rug it is recommended to have it professionally cleaned, but if you have a small- to medium-sized rug you can clean it at home.
Step 1
Shake your rug outside and then take it inside and vacuum both sides of the rug thoroughly. Move your rug outside to the driveway or where you have access to a garden hose, and make a rug shampoo solution by mixing two tsp. of mild detergent in a bucket of water.
Step 2
Spot clean obvious stains with a stain remover solution. Pretest a small section first to make sure the solution doesn't damage carpet fibers or dye. Apply a small amount of the solution to the stain with a white cloth. Do not scrub the stain, this could cause the stain area to spread. Blot the area instead, and rinse the area with cold water.
Step 3
Wet the rug thoroughly with a garden hose, and dip a sponge or mop in the mixed shampoo solution. Apply the soapy suds to the rug, gently wiping (not scrubbing) as you go.
Step 4
Rinse the rug thoroughly. Squeeze out any excess water. Rubber window squeegees work well for this task. Squeegee until no more water will come out.
Step 5
Lay the rug out flat to dry, and when it feels dry turn it over to let the other side dry thoroughly.
Tip
It is best to have your white rug professionally cleaned every 18 months. Spot treat spills immediately to prevent the stain from setting in and becoming permanent.