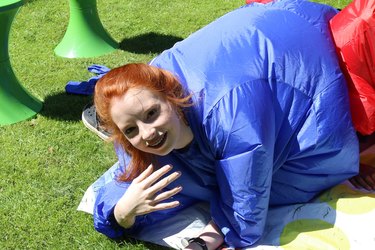 If you want to win the prize for the best costume at a Halloween party, try wearing an inflatable suit costume. Basic ones generally cost around $50, and they can come with built-in fans that run on batteries. It is also possible to make your own inflatable suit costume, which is less expensive and can look interesting.
Make Your Own Inflatable Costume
Decide what kind of suit you want to make and get some airtight material, such as latex sheeting (provided that you do not have a latex allergy). You can also use fabric of any type. Have on hand some rubber bands, duct tape, scissors and a small air pump. It's ideal if the air pump is battery operated, or you will be restricted to areas with electrical outlets while wearing your inflatable suit.
Cut the latex material into four different pieces. These will cover your top front, bottom front, top back and bottom of your back and allow extra room for the seams. Attach the seams together on the inside with duct tape, starting with the two top parts and then the two bottom parts or use colored duct tape and tape on the outside for a different kind of look. Alternatively, some tutorials suggest sewing the panels together using a sewing machine and thread.
Now, attach the top half to the bottom half. Leave a small hole for the air pump nozzle in an inconspicuous, easy-to-reach spot. Use the rubber bands (or sew in elastic if you like) to close up the ankles, collarbone and wrist openings. Now, you can have someone pump the air into the opening. Close it quickly with more duct tape. You can try decorating the suit with paint or markers while you are wearing it or have someone help. Keep in mind that the air will slowly leak out of the suit as time passes.
If you want an inflatable suit that will last longer, you will want to get a premade one. Internet retailers have a wide selection of inflatable latex suits. Latex is not easy to wear because it retains more heat than other materials. Before putting on the suit, sprinkle talcum powder all over your body, as this will prevent you from sweating so much.
Latex can be expensive, and these outfits can cost hundreds of dollars. Granted, the latex lends them a very shiny, impressive aura.
Most inflatable costumes are inflated in the same way, usually with a portable fan and a battery pack. Start by placing the battery pack into the fan, which should be incorporated into the costume in an inconspicuous place. Now, all you need to do is put on the costume, zip it up and turn on the fan. You should stay nice and puffy until the batteries run out.
Other Types of Inflatable Costumes
What if you don't want to wear an entire inflatable latex suit, or you're allergic to latex? There are also blow-up costumes on the market. These only cover the top half of the body, allowing you more freedom of movement and more ventilation.
There are also bouncy suits made to play around outdoors, but these can also be worn on Halloween. Costume shops sell inflatable polyester costumes for kids and adults, including cool dinosaur outfits that kids of all ages are sure to love. Many of these costumes only need to be zipped up, and they come with an attached, battery-operated fan.