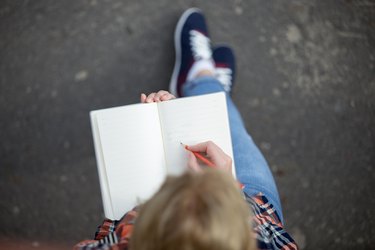 You've just entered the elegantly decorated ballroom, arm in arm with your new husband. As you scan the room, shock and surprise set in. Guests are attired in all manner of dress and obviously didn't understand that a country club wedding requires a certain dress code. You rue the omission of a dress code on the invitation because shorts, sneakers and even jeans dot the room.
Every invitation event requires an explanation of what attire the hosts expect from their guests. The wording must be clear in order to avoid surprises.
Dress Code Request: White Tie
While elegance seems to have slipped from required dress to optional dress, the mention of "white tie" indicates the formality of the event and the color of the men's ties. If you want your guests to dress to the hilt, the mention of "white tie" is required. Women use the occasion to drag out their most formal gowns and even long-sleeved gloves as an accessory. Jewelry is overstated, and the vault is emptied of even the most valuable items.
Black tailcoat

Matching trousers
White shirt with studs and cuff links
White bow tie
Suspenders
Black patent-leather shoes and black knee-length socks
Floor-length gowns

Elbow-length gloves
Dazzling jewelry
Heels or flats
Dress Code Request: Black Tie
Black tuxedo. If the tuxedo in your closet is old and ill-fitting, rental tuxedos are available at most men's clothing stores.
A white dinner jacket if the event is in a tropical climate
White starched shirt with studs and cuff links
Cummerbund
Black patent-leather shoes and silk socks
Gown or fancy cocktail dress

Elegant jewelry
Heels or matching flats
If you mention that either "tie" is optional, be prepared for guests to wear whatever they want. Be specific on your invitation. Don't give them options.
Dress Code Request: Semiformal
To avoid guests having to rent a tuxedo, word your dress code as "semiformal." Most men will have a dark suit hanging in their closet, and the women welcome a chance to dress up.
Dark suit and tie
Black shoes
Cocktail dress
Heels or coordinating flats
Dress Code Request: Upscale Casual
While the word "casual" evokes denims and loafers without socks, take your attire requirements up a notch. In the South, colorful dinner jackets make an appearance. In the North and in more conservative areas, a jacket or blue blazer fits the bill.
Sport jacket or blazer
Tie that can be removed and a coordinating, open-collared shirt
Shoes coordinated with the color of the pants and socks
Dress with matching wrap
Heels or coordinating flats
Casual Dress Code
Discretion is best when mentioning dressing for a casual event. Guests should determine where the event is located and dress accordingly. However, direct them. If it's on a boat, be sure to mention wearing rubber-soled shoes.
For a barbeque in the hot afternoon, a mention of shorts and sundresses is appropriate. To avoid having your guests show up in torn jeans and T-shirts, the invitation can be worded to include "no T-shirts or jeans."
Fancy Dress
In the United Kingdom, an invitation to a "fancy dress" party means costumes. In the United States, the term means that guests dive deep into their closet to find clothing that is more than office attire. Jewelry dresses it up. Elegance is the key to attire, especially when the invitation is engraved and arrives in the mail.