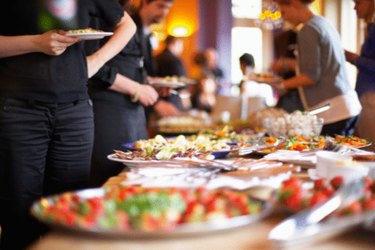 Foods for graduation parties don't differ too much from the types of snacks and beverages you might serve at a regular party. The only difference is that graduation parties may feature a cake or cupcakes specifically designed to congratulate the new graduate. Otherwise, simple finger foods that party-goers can consume easily while mingling in a crowd are perfect for graduation get-togethers.
Savory Finger Foods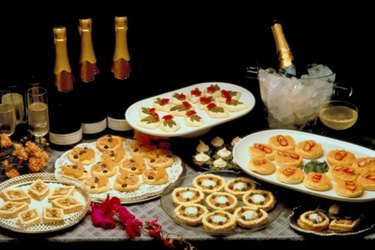 Also known as heavy appetizers, savory finger foods are perfect for party-goers with an appetite. Supplying an array of savory snacks will ensure that everyone's appetites are sated. A few common ideas for savory finger-foods are deviled eggs, miniature pigs-in-blankets, chicken sliders or miniature sandwiches, meatballs, cocktail shrimp, or taquitos. These foods are easy to eat while standing with a small plate in hand and they require no cutlery.
When serving savory finger-foods, keep vegetarian guests in mind and supply a few options for them. These might include miniature grilled cheese sandwiches, flat-breads with vegetable toppings, cheese cubes with toothpicks, or puff-pastries stuffed with spinach dip.
Buffet Style Foods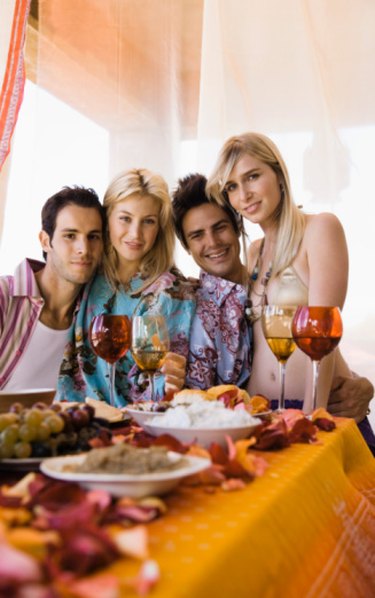 If you plan to have a seated meal at your graduation party, you might serve one or two main dishes or choose to set up a buffet style lunch or dinner. Either way, it is wise to include different options, since all guests won't have the same tastes and some may have restricted diets.
Common main dishes for graduation parties are barbecue ribs or chicken, burgers, and hotdogs. If you choose to take the barbecue route, supply vegetarian options such as garden-burgers, grilled eggplant, or fresh salads.
Another common meal choice is a make-your-own-sandwich bar. Setting out breads, meats, cheeses, and toppings allows guests to build their own meal. A variation is a build-your-own-taco bar.
Graduation Party Desserts
Themed desserts are a big hit for graduation parties. A large sheet cake decorated to congratulate the entire class is a common idea and is designed to feed many guests. This is cheaper than individual cupcakes or decorated cookies.
Special Considerations
To avoid large amounts of waste and trash, consider reusable drinking cups. Order cups decorated for the graduation class that guests can take home with them as memorabilia.
Similarly, for a large party, common sources for beverages and foods are always better options than individual bottles, cans and wrapped goods. For instance, if you are celebrating a college graduation and plan to serve beer at the party, a keg is a much more economically and ecologically friendly option than bottles or cans of beer. Similarly, buying snacks like potato chips in bulk is much more waste-effective than individually wrapped bags of chips, cookies, and other snacks.
Use glass mason jars rather than disposable cups for a greener party. Mason jars can be purchased at a grocery store and then decorated for guests to take home as memorabilia.