Things You'll Need
Gold trophy statues

Fake/real flowers

Confetti

Movie-themed accessories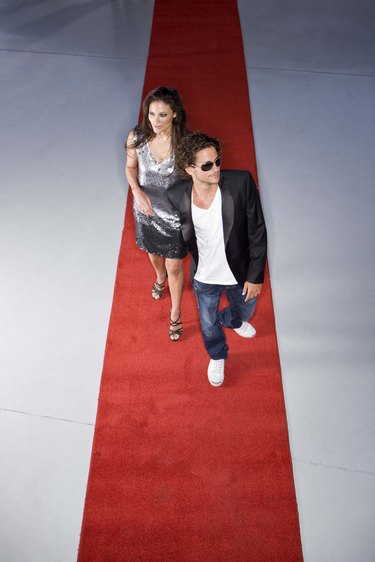 Hosting a party with a red carpet affair theme is one way to make your party guests feel like true celebrities for at least one night. In addition to rolling out an actual red carpet in your entrance way, you can decorate the party space and main table with movie-themed elements to accentuate the Hollywood atmosphere of the party.
Step 1
Determine what type of red carpet theme you would like your party to represent and shop for appropriate centerpiece props. For example, if you would like your event to center around the Oscars, search party supply stores or discount retail shops for gold trophy statues that you can use as the focal point of your centerpiece. Other centerpiece suggestions include a film roll and clapboard centerpiece, a clapboard balloon weight, a movie camera balloon weight and a trophy star centerpiece with a red or gold reel. If you would like your party to represent the Grammy awards, music-note themed trinkets — like photo frames or even balloons — can take center stage on the table.
Step 2
Use flowers, real or fake, to add color to your centerpiece. Many glamorous Hollywood parties use white flowers to make a bold and elegant statement, and many centerpieces feature white calla lillies, roses, tulips or carnations. You can place these flowers in a glass vase and surround the vase with other accessories that will complete the exact red carpet theme you are trying to convey.
Step 3
Display Hollywood-themed accessories around your main floral centerpiece to complete the look. Star-shaped confetti, imitation movie reels, popcorn boxes, imitation 45-vinyl records, scattered rose petals, decorative feathers and small bottles of champagne can help transport party guests to an imaginary black-tie, red carpet event.