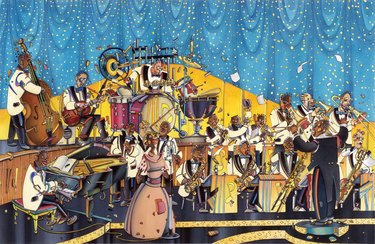 Bring the festive feel of the big-band era to your next celebration with decor that would make Count Basie feel right at home. If you make your space feel like a cool jazz club with mood lighting, a dance floor, plenty of vintage items and musical instruments played by big-band icons, it'll be as swingin' as a night at the Cotton Club.
Vintage Decor
Scour antique malls and thrift shops for vintage items to give your party a true big-band vibe. Hang a selection of big-band LPs on the walls, and prop additional LPs on side tables and serving tables. Use vintage glassware and china, and place more vintage items throughout your party space, such as old radios, turntables and clocks. Decorate with framed vintage big-band performance posters or photos of big-band icons such as Glenn Miller, Duke Ellington and Count Basie.
Musical Decor
Make the signature instruments of big-band music part of your decorative scheme. If the feel of your party is casual, search toy stores and gift shops for inexpensive plastic instruments such as saxophones, clarinets and drums to display on tables. If elegance is your goal, spray-paint them to conceal "toy" colors. Spray-paint small Christmas ornaments shaped like musical instruments in gold, silver or black, then string together with fishing line for a whimsical garland. Find sheet music to classic big-band tunes and fan out pages under serving dishes, or cut and glue pages to turn them into paper flowers. If your budget allows, purchase a used instrument or two from an antique or music shop, then polish them up and display on an entryway table or on your main serving table. Collect a few cardboard or wood boxes to convert into big-band music stands. Paint them or cover with metallic wrapping paper and add famous big-band names or logos, musical notes, or the initials of the party host or party honoree. Use these stands to hold vintage instruments, sheet music or party appetizers.
Table Centerpieces
Cut lightweight foam in the shape of musical notes and saxophones, then spray-paint black, gold or sparkly silver. Glue the pieces onto round foam bases for centerpieces. Set some tables with a small drum in the middle topped with a pair of drumsticks or a small floral arrangement. Just be sure to avoid children's marching-type drums in Christmas colors that create a "Little Drummer Boy" feel. For an authentically vintage centerpiece, place a vintage record player in the center of your table with the needle on a big-band record, then scatter rose petals, glitter, or both, around the record player.
Big-Band Ambiance
Make your party space feel like one of the big-band swing clubs that were popular from the mid-30s to the mid-40s. Make a sandwich board sign out of cardboard or wood planks, then use decorative lettering to display who is "Appearing Tonight," such as the party's honoree, or any musical acts you've hired to perform. Get a black checked mat or carpet to use as a dance floor, and line the ceiling with black and white or gold helium balloons. Instead of one large dining room table, use several small circular card tables with deep red or white tablecloths. Avoid harsh overhead lighting; give your party old-fashioned ambiance with votive candles and vintage lamps.