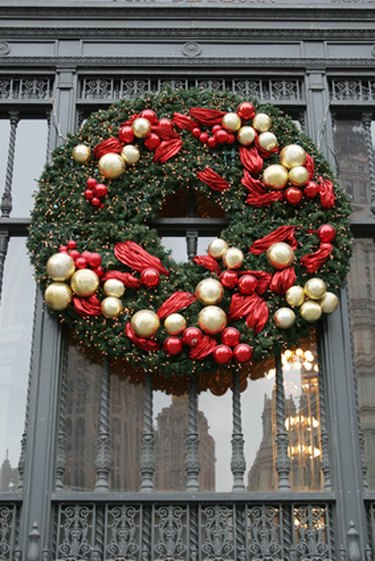 A Christmas wreath made with ornaments is a fantastic DIY project with countless creative variations. You can also use similar ideas and techniques to make wreaths for any season or occasion, such as wreath signs with your house number, tropical-themed wreaths for summer and fall foliage or Halloween wreaths.
You might have an idea in your head for an amazing wreath along with all the ornaments and decorations selected but struggle with knowing how to bring it all together. The best methods for attaching ornaments to a wreath will depend on the types of ornaments, choice of wreath form and the particular design. The project will typically involve copious use of hot glue and a variety of ties.
Whether you're following a set of complete instructions or executing an idea you dreamed up in your head, it's important to fully plan the design and construction of your wreath before attaching anything. Temporarily arrange all the ornaments in place on the wreath form before securing them permanently. You might use strips of painter's tape to help with this. Take a photo of the design so you can refer to it as you work.
Choose the Best Wreath Form
There are various types of wreath forms available, and each requires slightly different techniques for attaching ornaments. Nontraditional wreath form options include embroidery hoops, repurposed picture frames and hula hoops for oversize wreaths. A foam wreath is best with lightweight ornaments only, such as yarn, stuffed fabric, paper and foam ornaments. Attach these with low-temperature hot glue and sometimes toothpicks for added strength, such as when attaching foam balls to a foam wreath form. Ornaments with a wire or sturdy stem can be inserted directly into a foam wreath form.
Faux evergreen wreaths are typically designed so that you can bend and twist the branches. Attach the loops of ornaments directly to these branches, twisting to hold them in place. These types of wreath forms are great for Christmas ball wreaths and for wreath designs that you might want to change at a later time. Other wreath forms resemble a wire cage, and you can attach ornaments to these using ties. Twist ties, floral wire, chenille sticks, fishing line, yarn, sewing thread, raffia and ribbon are all options. Consider whether you want the ties to be visible or perhaps a design element.
Many wreath designs start with wrapping the wreath form to conceal it. You can do this with tinsel, ribbon, yarn, garlands, faux greenery, burlap or fabric among other options. Secure one end of the wrapping material with glue, a secure knot or a tie. Wrap it all the way around the wreath and secure the other end with more glue or ties. This wrapping can be an attractive base for ornaments or its own complete wreath decoration.
Christmas ball wreaths are a popular DIY option since Christmas balls are widely available in many colors as well as being inexpensive and very festive. Attach the caps with hot glue before attaching the Christmas balls to the wreath form because otherwise, they can come loose. Use ties to attach the cap loops to the wreath form, concealing them among the wrapping if you wish. With evergreen wreaths, attach the caps directly to the branches.
Add Your Own Ties to Ornaments
If you want to attach ornaments that don't have any hanging loops or if the loops are in an unhelpful position, use hot glue to attach a twist tie, length of floral wire or chenille stick to the back of it. This method is especially useful for attaching decorations, like pine cones, candy canes and repurposed household items.
You can also add your own ties to ornaments as a design element. For example, tie a bundle of cinnamon sticks with red ribbon and use the ribbon to tie the bundle to the wreath. Make wreath signs with decorated wood letters. Drill a small hole in the letters and hang them in the middle of the wreath with twine. Wreath signs might also feature a painted wood plaque, which you can attach in a similar way.