Things You'll Need
Wreath or wreath form

Ornaments

Floral wire

Scissors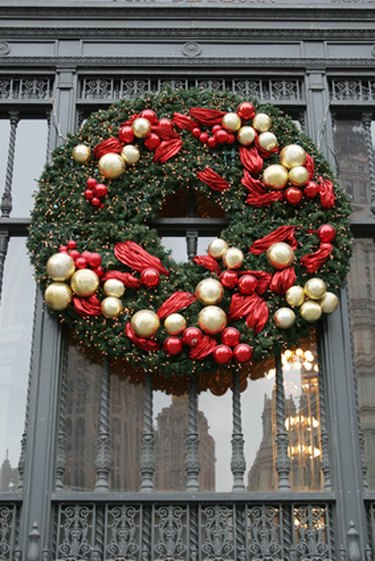 Make your Christmas wreath match your holiday decor by adding ornaments in the colors of your choosing. Let your personal style shine through by varying the colors and the amount of ornaments. Limit colors for a more subdued look; add lots of colors for a bright bohemian feel. Add small clusters of ornaments to preserve the natural feel of the wreath or go for a modern look by filling the wreath with ornaments. Ornaments can be added to a pre-made wreath of greens -- either living or fake -- or you can cover a wreath form with multicolored ornaments for a different take on this classic Christmas decor.
Step 1
Choose the colors and styles of the ornaments and determine how to arrange them on the wreath. Lay them out on the wreath to get a feel for how the finished product will look. Vary the arrangement until you're satisfied.
Step 2
Cut a length of floral wire with the scissors. The specific length will depend on the size of your wreath -- the larger and fuller the wreath, the longer the wire will need to be. Overestimate the length you'll need until you get a good feel for the size the wire needs to be.
Step 3
Place one end of the wire through the loop at the top of an ornament. Bend the wire at the middle so the ornament is centered on the wire.
Step 4
Bury both ends of the wire into the wreath until they're in the wire form that creates the wreath's base. Twist the ends around each other so the ornament is secured to the frame.
Step 5
Repeat Steps 2 through 4 for the remaining ornaments.