Things You'll Need
Opaque glycerin soap base

Sharp knife

Plastic containers

Clear glycerin soap base

Wooden stirring sticks

Microwave

Powder dyes

White and black mica powders

Small funnel

Clear oval soap mold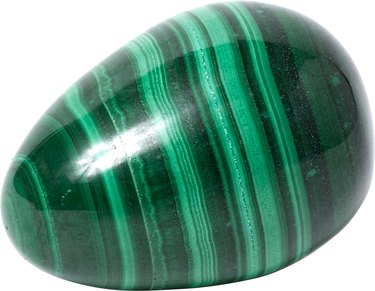 Novelty soaps not only help kids have fun during bath time and impress houseguests — they also give your bathroom decor a finished look. River rock soaps give a spa-themed bathroom a sense of elegance and minimalism. You can even pile them on a bed of soap sand for a sudsy Zen garden. River rock soaps also make inexpensive, yet thoughtful, gifts. River rocks with a line through the center purportedly bring good luck; gift a few of your friends with lucky melt-and-pour soap rocks.
Step 1
Chop up about 1/2 lb. of opaque glycerin soap base into 1-inch pieces with a sharp knife, and toss them into a plastic container. Chop about 1/4 pound of clear glycerin soap base, and put it in another container.
Step 2
Place both containers in the microwave for about 45 seconds. Stir both containers with separate wooden stirring sticks, and heat them again. Continue until both soap bases are completely melted.
Step 3
Add a pinch or two of black dye powder to the opaque soap base. You need just enough to turn it gray. Add a few pinches each of white and black mica powder to give the rock a natural sheen and make it look more real.
Step 4
Add any color powder you like to the clear soap base. Try silver, gold or pearlescent white, or just add a lot of white mica powder. The clear soap represents the line in the river stone. In real river stones, these lines are usually some kind of quartz. The shinier the clear soap, the better.
Step 5
Slip a funnel into the opening of a clear, oval soap mold. The mold must have perfectly rounded edges; if it doesn't, your soap won't look like a real rock. The mold must also be clear to allow you to see what you're doing.
Step 6
Fill the mold about half full of the gray opaque soap. Allow the soap to harden for about an hour or until you see a skin begin to form on top of the soap. Add a thin layer of colored, clear soap. The line may be 1/16 to 1/8 inch thick — any thicker and the rocks won't look real.
Step 7
Allow the "quartz line" in your soap to harden until a skin develops on top of it. Fill the mold the rest of the way with the gray soap. Let everything harden for 24 hours.
Step 8
Open the mold gently, and pop out the soap. It should look like a smooth river rock you could find outside.