Things You'll Need
3 pairs thick pantyhose

Batting or fiber-fill

Colored craft foam

Shiny fabric

Bathroom mat

Hot glue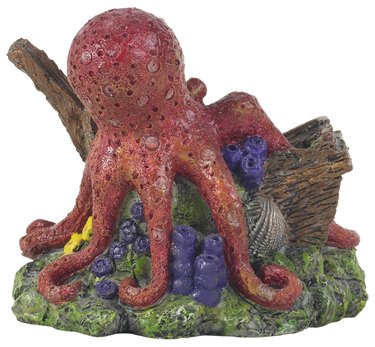 If you are making an octopus or giant squid costume for a theme party or Halloween, there is one element that is vital to the success of your outfit: tentacles. If you are wondering how to create the tentacles, gather the necessary materials and use one of two methods.
Pantyhose Tentacles
Step 1
Use three pairs of thick pantyhose to make six tentacles. Use your arms as the final two tentacles; an octopus has eight altogether. Cut off each leg, turn the pantyhose inside out and sew the toe to a point.
Step 2
Turn the legs back the right way, and fill with batting or fiber-fill right to the top to make a long, thin tentacle. Sew or glue the ends with fabric glue.
Step 3
Add round sucker shapes cut from colored craft foam, gluing them in position with hot glue along the length of the tentacles. Sew or pin the tentacles to your costume.
Fabric tentacles
Step 1
Cut long strips of shiny fabric in pointed petal shapes. Fold them in half lengthwise, with the right side of the fabric facing in, and sew up the long, outside seam. Use fabric glue if you can't sew.
Step 2
Turn the tentacle right side out. Unbend a wire coat hanger to create a long length of wire. Place a Styrofoam ball on each end of the wire to prevent it from poking through the fabric. Thread the wire into the tentacle.
Step 3
Fill the tentacle with batting, and sew or glue the end closed. Cut the suckers from a bath mat and hot glue them in position along the length of the tentacles.
Step 4
Pin or sew the tentacles to your costume, and use the wires inside to bend them into position.
Warning
Ensure sharp wire ends are covered to prevent injury.