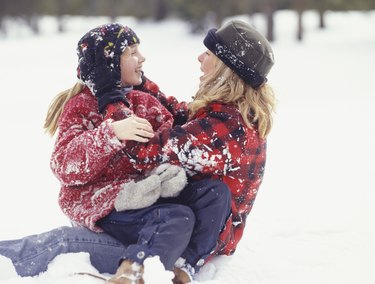 Whether you're headed out on the slopes or trekking to work on a rainy day, your clothing needs to be up to the task. Rain and snow will soak straight through non-waterproof fabric and waterproof coatings that have been worn down over time. Snow pants and clothing coated in durable water repellant, or DWR, can be made completely waterproof again, while cotton and other everyday fabrics can be made water-resistant to wick water away. Use a waterproof spray to prepare your pants for whatever Mother Nature throws your way.
Things You'll Need
Powder detergent

Waterproofing spray

Pant hanger
Step 1
Place the pants in the washing machine with powder detergent for DWR-coated fabrics; use gentle liquid or powder detergent for cottons and other everyday fabrics. Adjust the machine to the cold water and normal settings and allow the wash to run. DWR-coated snowpants can generally be machine washed, as the low heat will revitalize the water repellant -- however, follow the washing instructions on the label.
Step 2
Remove the pants from the washing machine. Clip the waist of the pants to a pant clothing hanger and hang them up outside or over a bathtub. Allow them to drip dry until 50 percent dry. The surface of the pants will absorb and retain the spray best when damp.
Step 3
Hold a bottle of waterproofing spray 5 inches away from the pants and coat the surface liberally. Use a DWR spray for snowpants and fabric already coated in DWR, and a wax-based spray for cotton and other everyday fabrics.
Step 4
Tumble dry in the dryer on low heat if the waterproofing product label indicates that heat is necessary to bond the product. If the label dictates that the product is line-dry only, hang the pants outdoors or over a bathtub to catch any drips until they are completely dry. Sprays applied to cotton, nylon and other everyday fabrics will dissolve after the next wash and require reapplication. DWR sprays are longer lasting and can be revived by a wash on a gentle cycle, followed by air drying, for up to three washes.
Warning
Wear a mask over your face and mouth if the label on the waterproofing spray directs you to.