Things You'll Need
9 feet leather cording

Scissors

Wood beads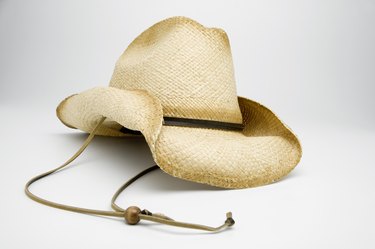 Stampede strings are found wrapped around the crown of cowboy hats, and despite its decorative features, the add-on was actually developed with purpose in mind. Usually braided from horsehair or thin leather cording, stampede strings are tied under the chin and keep the hat on the head during riding. To make your own stampede string at home, use braiding and beading techniques for a fashion meets function accessory.
Step 1
Cut the leather cording into three 3 1/2 foot pieces.
Step 2
Knot the three leather strands together, creating a 2 inch tail at the end.
Step 3
String wood beads onto the three leather strands.
Step 4
Braid the leather cording until you reach the final 3 inches.
Step 5
String wooded beads onto the leather cording to mirror the first end.
Step 6
Knot the leather cording leaving another 2 inch tail at the other end of the braid.
Tip
Use multi-colored leather strands for a more decorative stampede string.