Things You'll Need
Gray hooded sweatshirt

Gray sweatpants

Gray felt

Black fabric

Black yarn

Fabric glue

Scissors

Black socks

White paint

Needle

Thread

Fake plastic teeth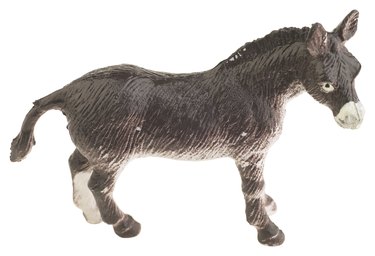 Donkey costumes can be fun for both adults and children and can be worn to a Halloween party or a kid's birthday party. These types of costumes have become more popular since the release of the Shrek movie and the popularity of "Donkey" in the movie. Instead of purchasing a donkey costume, save money by creating your own donkey costume at home. A do-it-yourself donkey costume is inexpensive and can be fun to create.
Instructions
Step 1
Purchase a gray hooded sweatshirt and sweatpants. Cut out donkey ears from gray felt and sew to the hood of the gray sweatshirt.
Step 2
Cut a strip of black fabric to create a donkey tail. The strip should be approximately 16 inches long and 2-3 inches wide. Attach 10 six-inch pieces of black yarn to the strip using fabric glue. Sew the opposite end of the tail to the bottom of your gray sweatshirt.
Step 3
Wear black socks on your hands and feet to represent hooves. To prevent slipping, cut out the bottom of the socks and pull over your shoes.
Step 4
Paint your face white using a water-based paint that is labeled as face or body paint. Add fake teeth that resemble a donkey. This type of teeth can usually be found at party stores or ordered online.