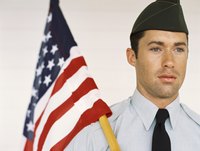 A garrison cap is a type of military head wear, with straight sides and a creased crown. Various military outfits the world over wear garrison caps, also known as side caps, each with their own insignia. Garrison caps are inexpensive to make, and don't even require a great deal of needlework knowledge.
Things You'll Need
Outer material
Lining material
Tape measure
Scissors
Sewing machine
Thread
Measure the cap wearer's head to give you an idea of how much material you need to make the cap.
Cut two pieces of outer material with scissors to create the sides of the hat, half of the total circumference of the hat. Repeat this process with the lining material. Leave 5/8 inch for seam allowance.
Pin the two side panels together and sew them at the side edges, leaving a 5/8-inch seam allowance. Cut another piece of material the same length as the side panels to create the top of the hat. Use the sewn-together side panels as a guide for how wide the top of the hat should be. Repeat this process for the lining.
Sew the top of the hat to the two side panels, using a needle and thread or sewing machine.
Cut two panels to create the edging for the hat, three times the circumference of the hat, with a width of 2 1/4 inches.
Pin and sew the edging panels together at each end.
Sew the lining material into the outer cap. Use a 1/4-inch allowance for the seams.
Sew the edging panels on to the outer cap to create your garrison cap.
Add your chosen insignia or any other embellishments once the sewing is complete.