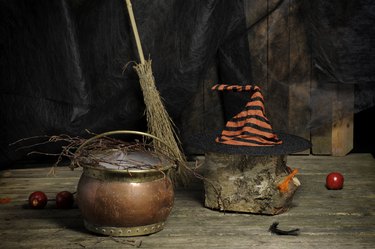 When you make your house look like a witch's cottage, you're allowing magic and whimsy to enter your abode. A witch's cottage theme could be the motif for this year's Halloween display, or it may influence year-round decorating. Should you choose to be a good witch, a bad witch, or a stylish witch, be warned: Those who visit your witch's cottage may just fall under its spell.
Ding-Dong: The Witch Is Home
Your front door is the ideal place to introduce your witch decorating theme. Embellish a simple grapevine wreath with black artificial flowers, and, nestled in the center, position either a silhouette of a black cat created out of lightweight wood or an artificial black crow. Continue the theme into the foyer by hanging your broom, fashioned from day lily sticks tied onto a branch with twine, next to your car keys. Add witch-inspired accessories such as an ornate metal candelabra, complete with black candlesticks on the entryway table and a picture of a full moon on the wall.
Sit dor a Spell
Decorate your living space so it's suitable for entertaining your "coven" and even a flying monkey or two. Create an accent wall that appeals to your inner woodland goddess with wallpaper adorned with birch trees. The black and white trees pair when the remaining walls are painted a pebble gray. Bold red accent pieces, such as a hanging light fixture, throw pillows and a bowl of apples add touches of color. If the room has a fireplace, hang a cauldron for a cheeky touch. Place thoughtful accessories throughout the room, such as a book of spells and hanging herbs, which may be used when you're cooking up your "potions."
Fire Burn and Cauldron Bubble
Lure your pretties into your kitchen with clever accessories that transform your humble kitchen into a witch's apothecary. Turn your everyday dried herbs into potent "spell" ingredients with homemade labels that make ordinary bay leaves become "eye of newt" and oregano "flecks of toad." Be sure to leave the name of the actual herb on the back of the bottle so that you don't confuse a guest. Tempt visitors -- or victims -- by displaying cookies, candies and other goodies in large glass candy dishes on your kitchen counter or in your glass-front cabinet.
Something Wicked
Bring in color and texture to awaken your bedroom. Drape your bed with a duvet of rich purple or deep red, reminiscent of a witch's cape. Invest in a canopy bed that you can enhance with nubby tree branches, intertwining grapevines and twinkle lights. Adorn one wall with a large mirror, preferably one with an ornate frame. Create a unique jewelry display by replacing the picture from an oversized frame with thin wires stretched from one side to the other. Hang your jewelry and other accessories, such as scarves, from the wires.