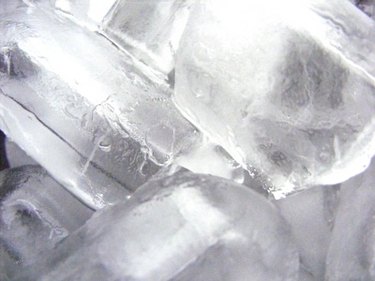 A cold pack is a helpful tool that most of us have used, even if we aren't quite sure how it works. After all, an ice pack for food can be a real lifesaver for tailgating, bringing snacks to soccer games, on hikes and when traveling. They come in different colors and sizes, and some work much better than others. They also have to be cared for, otherwise they will not last long or may even start to smell. So how do they work, anyway?
The term "cold pack" can mean many different things, from an instant cold pack to a large ice pack for food. Cold compresses for injuries can be purchased in stores, or you can make them at home. To create your own, get a clean, sealable plastic bag and fill it with frozen vegetables or ice. Small veggies like corn or peas are especially good because they move around in the bag and can conform to the injury site. Be sure to wrap the bag in a thin cloth to protect your skin before applying it, though.
You can also dampen a cloth, wring it out and put it in a sealed plastic bag. This will have to freeze until it is stiff enough to use, however, and this can take time. These homemade cold packs can be good in a pinch, but frozen vegetables thaw and ice melts pretty fast. Having a cold pack product is the better choice if you need something that is more versatile and can stay cold longer.
What Is an Instant Cold Pack?
Instant cold packs do not have to be stored in freezers, and can stay cold for as long as 20 minutes. These packs have two bags inside them; one has a chemical such as calcium ammonium nitrate and the other has water. To use instant cold packs you have to hit or shake the package, which makes the bags break and substances combine. This in turn creates an endothermic reaction which makes the whole thing good and cold.
These packs are great for times when you have no access to ice, so you can keep them in a first aid kit in your car or backpack. They can only be used once though, so keep several in there. Also be sure to keep them away from pets and children, because, even though these materials are considered non-toxic, you don't want them to be ingested.
Gel packs are used for cold and hot therapy, and are made up of gel refrigerants and water. These products can be frozen or heated up in microwaves, according to the manufacturer's directions. They are not as portable as instant ice packs though, and are better suited for chronic and recurring pain like stiff muscles. They are made from puncture-proof, heavy-duty materials that prevent leakage, so you can use them over and over again.
Gel cold packs come in different shapes and sizes, which makes them quite versatile. They can be used on injuries, and also to keep food cold. Be sure to read the label first, as some are not designed to be used with food. Basic reusable ice packs are the ones that with harder edges that can also be frozen and thawed repeatedly.
Be careful with gel packs as well, because some contain toxic materials that you wouldn't want to leak out on your food. Wash off your reusable ice packs and gel packs with mild soap and water after use, and wipe them dry before storing them. Dropped and overheated gel packs are likely to break or get punctured, so be careful when handling them.