This Halloween, toss a little originality into your Dawn of the Dead date-night garb, opting for complementary costumes that go beyond the tired Tweedledee and Tweedledum variety. Instead, think: Darth Vader and Princess Leia, salt-and-pepper shakers, a light socket and a light switch and, for those who enjoy a good play on words, matching Freudian slips -- lacy lingerie, high-heels -- or the Dead and Red "C" -- cardboard, crayons, tin foil for a knife stuck in the Dead "C" part. Whether sassy -- handsome head surgeon and mini-skirted candy striper -- or straight-laced -- Bill Gates and Steve Jobs -- all you need is a stockpile of art supplies, a few key clothing items and a little imagination, and you'll hit that pumpkin season soiree disguised in dynamic duo style.
Fred and Wilma Flintstone, the Mad Hatter and the Queen of Hearts from 'Alice in Wonderland,' and anything from 'The Pirates of the Caribbean' are going to be really popular this Halloween.

Carie Nuss, co-owner of Pok-A-Dots costume store in Arcadia, California
Letting Out Steam
For the season's sexiest, spookiest, most stylish costume pair trend, think steampunk.
"It's a combination of Victorian costumes mixed with Edwardian costumes mixed with science fiction mixed with everything wet and wild," is how costume aficionado Daniel Hazen describes the steampunk craze. "It's innovative and mechanical and captures various eras in time. The costumes look like something you would wear after the world was wiped out and you grabbed whatever you could from whatever was left. To describe it you really need to look at it."
For a visual reference, Hazen, who manages Ozzie Dots, a costume store in the hip Los Feliz section of Los Angeles, suggests looking to surrealistic adventure films such as "Time Bandits" or "The City of Lost Children." The costumes, which merge clothing from different periods, feature an abundance of corsets, handlebar moustaches, goggles, monocles and striped stockings in muted neutrals such as brown, beige and black.
"It's all in the interpretation," says Hazen, explaining how a couple can string the inventive trend together. "The girl could wear a long Victorian-era tea dress like out of the movie 'Moulin Rouge' and pair it with tall lace-up boots and a pair of goggles that look like something you'd wear when welding. The guy could wear a waistcoat and a pair of peg-legged pinstriped pants and carry an antique pocket watch. It's almost like this pirate look but with a Tim Burton twist."
Of course, if you don't have the time to ransack the racks of steampunk clothiers, Hazen suggests a simpler alternative: zombies.
"Zombies are always a big to-do around Halloween," Hazen says. "There are always new zombie movies or TV series coming out around this time. A couple can definitely dress up as zombies fairly easily by picking out what sort of clothes you want to wear and create that undead zombie look with the fake red blood and black makeup."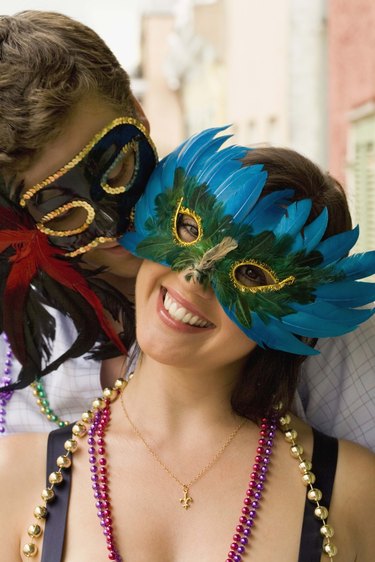 More Sexy than Scary
But if you and your better half are itching for a less frightful vibe on this All Hallows' Eve – more Fred and Ginger than Frankenstein and his bride – there are plenty of not-so-ghoulish paired options, assures Carie Nuss, co-owner of Pok-A-Dots, a costume retailer in Arcadia, California.
"Fred and Wilma Flintstone, the Mad Hatter and the Queen of Hearts from 'Alice in Wonderland,' and anything from 'The Pirates of the Caribbean' are going to be really popular this Halloween," Nuss says. "People come in all the time requesting classic paired costumes like Catwoman and Batman, Captain Hook and Tinkerbell, and Cinderella and Prince Charming. Superheroes are always popular."
You need not break the bank to coordinate haute Halloween costumes that are at once clever and super cool, Nuss says.
"You can buy separate pieces and put your own creativity into your costumes," she says. "If you're going as Little Red Riding Hood and the Big Bad Wolf, you can buy the red hooded cape and red gloves, and for the wolf you can get a plaid shirt and overalls and add some fake brown fur to your face and hands. If you want to go as a pirate and a wench, you can get jeans and shred the bottoms and wear a puffy shirt and a scarf on your head and big hoop earrings and all that Gypsy-type jewelry. The wench can wear a short, tight corseted dress and sexy stockings. "
President Barack and Michelle Obama, Prince William and Princess Kate, and Harry Potter characters are other trends bound to be popular for Halloween 2011, notes Nuss.
"You could buy a Harry Potter-like robe, which runs about $35, and add a tie and a sorting hat and your basic broom from a hardware store," says Nuss. "For Hermione, you cold wear the little schoolgirl skirt and a sweater."
But this Halloween season, less is often more – especially when your creepy fright-night fete doubles as a romantic date.
"Just about every costume comes in a sexy or serious version," Nuss says. "I have two-piece a Queen of Hearts outfit that shows your entire stomach and a Mad Hatter outfit that gives full coverage. I've got doctor scrubs and a doctor's outfit that's a short, short skirt and shows a lot of leg. Just about everything this Halloween can go either way."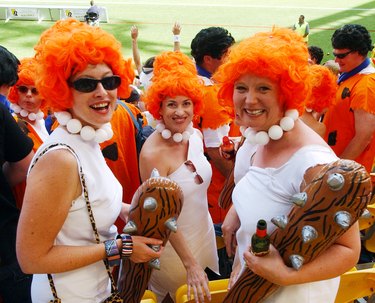 Making Faces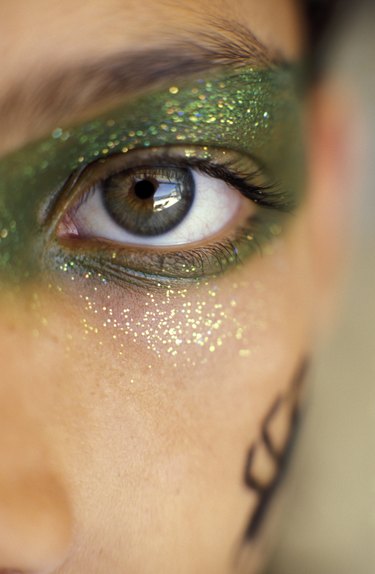 Makeup goes a long way in creating an authentic Halloween look. With the right products and properly applied brushstrokes, even the most tried-and-true go-to costumes can become conversation pieces.
"For an updated witch look that's very wicked, you definitely want a perfectly done green face," says makeup artist Mara Levarre, who suggests investing in a cache of makeup sticks, which can be as inexpensive as $1 a pop. "You want to apply your green face makeup evenly, smoothing it out and patting it down so it doesn't smudge. Blacken your eyebrows with a thick eye pencil and wear either matte or glossy black lipstick."
For wannabe zombies, Levarre suggests an all-gray face and lips, dark makeup around the eyes and a dark contour, or semicircle, under your cheekbones.
"Use a lot of greasy product in the hair," she says.
For those last-minute revelers going ghost-white this Halloween, Levarre recommends an all-white face and lips, and applying a circle of light gray makeup around each eye.
"If you're really lazy," she says, "a white sheet always works!"