When Halloween rolls around, parents usually have a lot on their minds, like who's going to take the kids trick-or-treating or what they'll take to the neighbor's Halloween bash. But there's something else parents should put some thought into this time of year: what to wear to the office.
"We've all enjoyed Halloween from a kid's eyes, and that's really what it's all about," said Jason McCann, president of Gemmy Industries, a Halloween costume, decor and novelties company. "The office is really the extension of that."
Choosing a work costume can be tricky, but there are rules and opinions on what works and what can make your office Halloween a nightmare.
When you're out with your friends at a friend's party or the club, it is fair game. But anything overtly sexy for work, you should probably stay away from.

Elizabeth Kazda, human resources professional
Say 'Yes' to Dressing Up
If you're asking yourself why you should dress up in the first place, the answer is simple: It's fun.
"It's one of those moments where everybody can get together, share humor … and just really savor the moment," McCann said.
By that point in the year, many employees are looking forward to some much-needed time off once the holidays come around. Dressing up for Halloween can be a way to kick off the holiday season and get everyone in a festive mood.
"From a corporate culture standpoint, I think it brings a very positive vibe or a positive energy for all the employees to get together and celebrate something," McCann said. "Every company out there is looking for ways to motivate employees or keep morale high."
If everyone else in your office plans to dress up, you should strongly consider it, too, or else you'll be seen as a party pooper, said Candy Keane, owner of Three Muses Costume Boutique in Jacksonville, Florida.
"If someone doesn't dress up, they don't seem like a very fun kind of person. They seem a little uptight," she warned.
You can often tell a lot about co-workers and bosses by whether they choose to participate in Halloween festivities around the office. "Even at the VP level, if some of the VPs are into it and others aren't, the ones who don't [dress up] come across as stiff," said Elizabeth Kazda, a human resources manager at Sun Light and Power in the San Francisco Bay area.
So loosen up and find your perfect -- and work-appropriate -- costume.
Play It Safe
Whether you work in a big, formal office or a small, laid-back setting, there's always a protocol for what kind of costumes make the cut.
If you're new to the office and aren't sure what's safe and what's not, check with your co-workers. They can clue you in to what the Halloween atmosphere is like in the office, what their plans are for dressing up this year and what kind of costumes haven't gone over so well in the past, Kazda said.
Once you have a feel for what's safe and what's a no-go, there are lots of ways to make sure you don't end up in the HR office. Historical characters are always safe and reliable go-to costumes, Kazda said. "It shows a little bit about what your interest is, and it's a good conversation topic."
Along the same lines, dressing from a certain era – like a hippie from the '70s or a '20s-style flapper girl – makes for a good costume. "You're not going to offend anyone with a costume like that, and it's not going to be restrictive," Keane said. "It's not going to be provocative unless you make it that way."
Sam Fard, president of Roma Costume, suggested costumes that don't require too many accessories, which can get in your way and keep you from working efficiently.
Whatever you do, make your costume fun, creative and cool, McCann said. He suggested pop culture outfits, such as dressing up as a "Glee" character or wearing light-up costumes like the ones the Black Eyed Peas wore at Super Bowl XLV.
Group costumes can be a great way to build camaraderie with your co-workers. "If you can team up with other people that you work with, it can make it a lot more fun," McCann said.

What Not to Wear: Halloween Edition
While employees are encouraged to let their humorous and creative sides shine through their Halloween costumes, that doesn't mean every look is work-friendly.
Many costume experts agreed that political, religious and war-related costumes should be kept out of the office, no matter the work situation.
Another theme to shy away from is death and gore, Kazda said. One year, she decorated her cube as a "Dexter" kill room, leaving fake body parts lying around her area. "It wasn't a good move," she said. "It was a little too gory for the office."
That kind of theme can also be messy, something Keane said you should avoid. "In a workplace, you're not going to want to wear something that's going to be really messy, so you're not going to wear something covered in blood," she said.
And be careful not to dress like co-workers or as a co-worker's profession, Kazda said, because that can step on toes. For example, if you work at a hospital, don't come in dressed as a "Sexy Nurse," since this can be offensive to nurses in your building.
Which brings up another issue: Many people, especially women, have trouble scoring work-appropriate Halloween outfits since store-bought adult costumes often are too risque. "When you're out with your friends at a friend's party or the club, it's fair game," Kazda said. "But anything overtly sexy for work, you should probably stay away from."
A lot of costumes are short and low-cut, but there are ways to solve those problems. Keane said her store teaches customers how to pair revealing costumes with items they already have at home to create an office-safe look.
"Say you've got a short little costume with a tiny little skirt," she said. "Then you just wear it over another skirt."
Kazda used this idea in 2008 when she dressed as Cleopatra, winning her office's Best Dressed award. She added a shirt and leggings under her outfit and spiced it up with jewelry and a glitzy headpiece.
Still not sure if your costume is cut out for the office? McCann has one simple rule that can help you decide: If you wouldn't want your mother or children to see it, it's not office-friendly.
No matter how you choose to dress up, though, aim for originality. "Be as creative as possible," McCann said.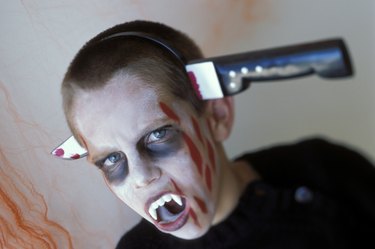 Office Costume Do's and Don'ts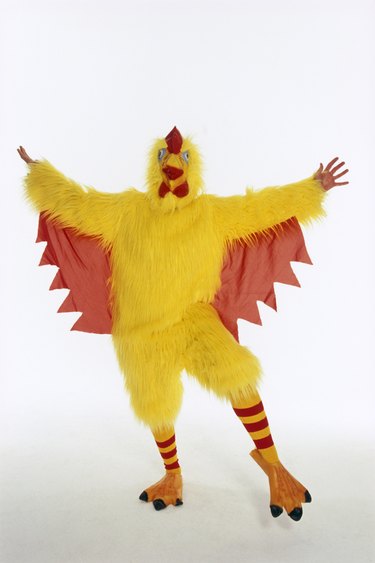 Check out these easy-to-follow tips for rocking your Halloween costume at work.
Do: Keep it modest. "Nothing too short, where you can't bend over," said costume shop owner Candy Keane. "You wouldn't wear a miniskirt and tube top to work, so your costume shouldn't be that."
Make sure it fits. "If it doesn't fit, it's going to look as bad as it feels," Keane warned. "If you're wearing shoes that match your costume, break them in before you try wearing them a whole day at work."
Don't: Wear something restrictive. "If your job is running around, make sure you're not wearing something that's going to affect your ability to run around," said human resources professional Elizabeth Kazda. "If you're typing, make sure you're not wearing huge gloves."
Forget a change of clothes. If you have a client meeting or need to interview candidates, having a fresh pair of clothes keeps you looking professional, Kazda said.