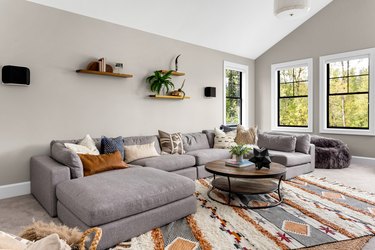 When you decorate your home, you want to use the finest items, but you also need to be conscious and careful about your budget. Traditional area rugs are expensive, which is one reason you may want to use rug alternatives or a rug substitute. If you employ a bit of creativity, you'll see that there are many alternatives to area rugs that can save you a lot of money.
There are so many viable rug alternatives that mean you don't have to use a regular area rug ever again if you so desire. One option is a nonfabric rug, such as a cork area rug. These floor coverings are not only sleek and modern-looking but they're also eco-friendly and affordable. Most come in shades of brown, but you can find all kinds of shades from specialty makers and online retailers.
Another option is to use a vinyl floor mat. You might be most familiar with these in kitchens and entryways, but they also come in larger sizes meant to replace area rugs. Many homeowners love them, especially those with pets or kids, because they're incredibly durable, stain-resistant and effortless to clean. Best of all, they come in just about any design or color scheme you can imagine and are readily available from home goods stores of all kinds.
Regular Carpet Can Replace Area Rugs
Consider regular carpet as an alternative to area rugs. It's especially effective if you have ample space to cover, and you want to conceal the floor underneath. Reasons for doing this include an ugly existing floor, or it might be out of date or damaged. To use carpeting samples or remnants as an area rug, you'll need to cut them and mount them on something.
Wall-to-wall carpeting is less expensive than many people realize, and you can usually get a good deal on the installation. A floor-covering specialist or a big-box home store, like Home Depot or Lowe's, can help you with the installation.
Use a Blanket as a Rug Substitute
You can use a blanket as a rug substitute, and blankets tend to be less expensive and easier to clean. You should keep a few things in mind if you plan on using this method, though.
First, you shouldn't lay it directly on the floor unless it's a heavy, woven blanket. Otherwise, it could slide around and cause falls. You'll need to put heavy-duty rubber matting underneath, and you may need to use fabric adhesive or another sticky substance to attach the two.
Second, don't use a blanket as a rug in high-traffic areas of your home. As you can imagine, blankets aren't designed to withstand that kind of wear and tear, and you'll likely need to replace them sooner rather than later.
Prolong the Life of Your Floor Coverings
Whether you opt for carpet, an area rug or one of the other alternatives, the best thing you can do is to take care of your floor coverings. Doing so will prolong their life, saving you money.
When you purchase or install your floors or floor coverings, pay attention to whatever literature is included in the package. Read over manuals and store them somewhere handy. Set calendar reminders if you should do a specific type of cleaning regularly.