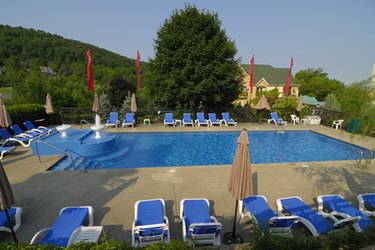 If you want to plan a pool party your friends or children but do not own a pool, there are several types of facilities that may offer a solution. Many businesses rent out their pool areas for private parties.
Recreation Centers
Municipal recreation centers and YMCAs, especially in large cities, may have multiple sites of community centers with pools that allow private events. Private party rental times will most likely revolve around the pool's schedule. Some recreation center pools are only open during late spring and summer.
Private Facilities
Private clubs like country clubs, church recreation centers and local college athletic departments may rent out their aquatic facilities for pool parties. Ask your friends, parents of your children's friends and congregation members for leads on private facilities with pools.
Water Parks
If there is a water park in your area, call the facility to find out its rates for private parties. Make sure to ask about the duration of the season so you can schedule your party within those dates.
Hotels
All types of hotels offer their facilities for private events, from luxury chains to budget lodging. Consult your local listings to make a list of hotels in the area to begin your search.