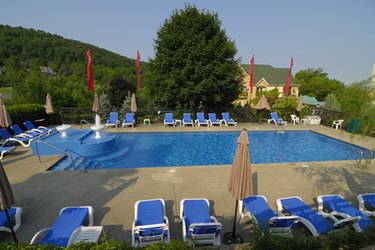 There's nothing quite as fun as a swimming pool party, but if you don't have a pool, there are a few basic ways to borrow or rent one. You can look into pool party rentals, consider indoor pool party venues or rent an outdoor pool. The choice will depend on the time of year, how many people you want to include and, of course, the price as compared to your budget.
You're probably familiar with home rental sites, like Airbnb and VRBO, but now, there are similar websites and apps, like Swimply, that rent out outdoor swimming pools in private homes. With these resources, all you have to do is enter a ZIP code, and if there are available pools nearby, they will populate the screen. This idea caught on pretty quickly during the COVID-19 pandemic; for instance, a northern New Jersey "backyard oasis" fetched $120 an hour for the first five people plus an additional $10 for every additional person.
In 2020, websites like this had approximately 110,000 pools listed throughout the United States. The listings include information about lounge chairs, towels and other amenities. For example, there was a lovely pool with a hot tub in Houston available for $30 an hour and a sparkling pool in Los Angeles for rent at $45 an hour. Those seem to be bargain prices but be sure to read all of the fine print before you book.
This new phenomenon is not without controversy due to concerns about COVID-19 and a lack of supervision. Without oversight, some pool party rentals can get out of control. One held in the exclusive Alpine section of North Jersey drew hundreds of people, but it was not linked to Swimply. Pool owners set the maximum number of attendees, but monitoring this is up to them. The majority of renters seem to be nuclear families and small groups, though.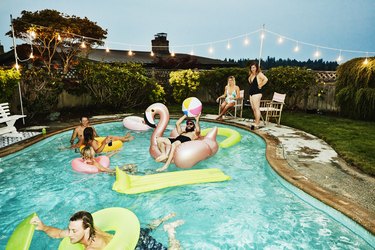 Depending on where you live, there can be a lot of different options for holding an indoor or outdoor pool party. Some local jurisdictions allows locals to have pool parties during regular pool hours. For about $75, they provide an hour of private use and a party area. This is only available from 2 p.m. to 6 p.m. at certain locations, so it is likely designed for children's parties.
Some facilities may have extended hours for evening adult pool parties, but you need to visit the websites and check. Many hotels also make their indoor pool available for parties. Keep in mind that you have to follow their rules at all times. It is possible that they will not serve alcohol and will not allow you to serve alcohol at your event.
Renting a Pool Party Venue
If you want to set your own rules for your event, you can look into a pool party venue. There are specific venues for this, like the Raleigh Hotel in Miami. It is a 5,000 poolside venue and can hold up to 500 people. It serves food and drink, and your guests can relax in private cabanas. There's also New York City's Gansevoort Hotel, a top of the line, full-service resort with an amazing rooftop pool that accommodates up to 100 partygoers.
There are also country clubs and other facilities that rent out their indoor pool for children and adult parties. Eagle Pointe in Mont Belvieu, Texas rents its pool on Saturdays from 4:30 to 6:30 p.m., and for $200, you can invite up to 50 guests. You have to bring in your own food and follow its rules of not bringing in any glass. If you need to invite more guests, you can do so, but you will have to pay a bit more.