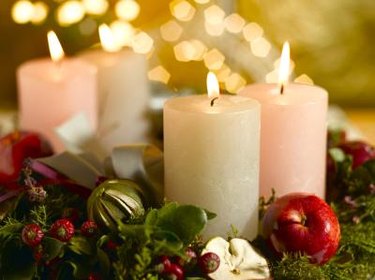 The practice of placing candles in windows during the Christmas holiday in the United States is a tradition early Americans may have brought with them from other countries. But the practice did not truly catch on until fostered by a historic American colonial district. The tradition has spread across the country, especially with advances in safety. It is especially popular in the eastern part of the country.
Significance
Placing candles in the window during Christmastime is reminiscent of the first Christmas "when Mary and Joseph could find no shelter," according to the website Fantasy-Ireland.com, which claims the practice is an Irish tradition and symbol of Irish hospitality. "It is a symbolic gesture to those ancient travelers who could find no shelter that there is room in this home for them and the coming child." Because of Irish laws against the Catholic faith, a candle in the window signified a home where fellow members and priests were welcome, according to the Catholic Education Resource Center.
Colonial Williamsburg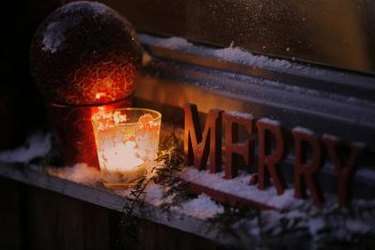 Beginning in the 1930s, the Colonial Williamsburg's historic area began using candles in the windows of its historic buildings during the Christmas season under the direction of the president of the Colonial Williamsburg Foundation, who asked the area's research department to find authentic and historical holiday practices, according to foundation information found on history.org. However, according to the website, the historians could not find anything useful, "as Christmas was not much of a holiday in Colonial America." However, a landscape architect named Arthur Shurcliff recalled how his family, who hailed from Boston, used a lone lit candle in each window in the 1890s and suggested the practice for Colonial Williamsburg. It has been part of the area's Christmas celebration since.
Electric Candles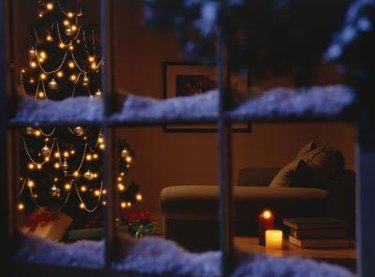 The practice did not catch on in private homes over concerns about fire until the availability of electric candles in the 20th century. The practice has since taken hold throughout the United States "even though the (Colonial Williamsburg) Foundation made it clear it was not a historically accurate holiday practice," its website says.
Modern Use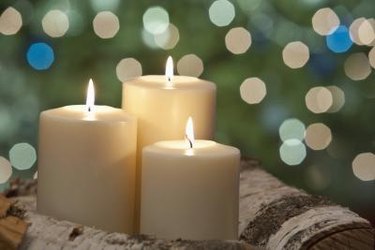 The practice is popular in the eastern part of the country, especially in areas with a Colonial background. It is used as decoration and as a sign of welcome, according to Amish County News. It has evolved into the use electric candles, including those with long-lasting light-emitting diode (LED) bulbs. Varieties include cordless and some that turn on at dusk and off at dawn. For some, a single candle is a simple, easy decoration in what can be a decadent holiday season.
Other Faiths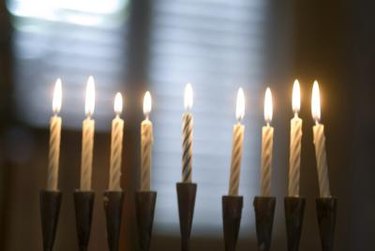 Members of the Jewish faith use a nine-branched candelabrum, a menorah, to celebrate Hanukkah, usually celebrated in the same season as Christmas. The menorah is often placed in a window for passersby to view.