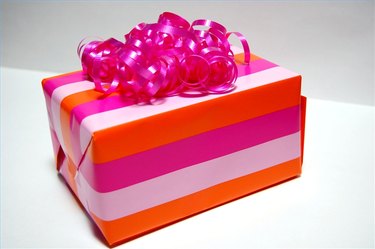 By the time a woman hits forty, she generally has a strong sense of herself and knows what she wants. Today's forty-something woman is more likely to be active than not. She may be a career woman, wife and mother. Or she may be single. Most forty-something women have established a distinctive sense of style. Gifts for a woman over forty should be selected according to her lifestyle, interests and personal tastes.
For the Style-Minded Woman
Style-minded women over forty are likely to appreciate clothing, lingerie and accessories. If you don't know her size, a stunning scarf in colors that complement her wardrobe will be appreciated. She's likely to enjoy bold fashion jewelry or the real thing---whatever your budget allows. For the very cautious, a gift card to her favorite boutique is always a good bet.
For the Health-and-Fitness-Minded Woman
Since many women over forty are athletic and serious about staying fit, she'll appreciate equipment and apparel for her favorite sport. For the woman who loves the water, a beach bag filled with a towel, snorkel, flippers, sunscreen, sunglasses and other swimming gear will be a hit. A gift card for a relaxing massage or other services at a day spa will make her feel pampered.
Gift of Gab
Forty-something women like to stay connected, both in business and in their personal lives. Find out what kind of mobile phone she has and get her skins (animal print is always nice) to change with her mood or outfit. A laptop, a new landline phone and stationery will give her more options for communicating. These gifts will be appreciated by the career woman as well as the stay-at-home mom.
For the Home-Loving Woman
Most forty-something women have already established their households, and they don't need many of the basics. However, she's likely to enjoy crystal vases, silk pillows, throws for the sofa and one-of-a-kind artwork that will enhance her living space and remind her of you. If your budget allows, she'll appreciate a new sound system or plasma TV.
For the Social Butterfly
The social woman over forty who loves to entertain can always use a new cake plate, tea set or place mats, or a bottle of wine. Even better, the gift of a monthly wine or cookie club membership will surely make her smile all year long.
For the Perpetual Student
Forty is a great age to go back to school or take up a new hobby. Encourage your favorite forty-something woman by giving her the gift of cooking classes, dancing classes, how-to books or craft classes. If she's married, don't forget to include her spouse. If you are the spouse, join her in the new interest.
For the Romantic Woman
If this forty-something woman is the romantic interest in your life, she'll love receiving a poem in a pretty frame. Or if writing isn't your forte, give her personalized mugs emblazoned with a picture of the two of you and an inscription of the date you met. She'll also enjoy a night out at her favorite restaurant and a moonlit stroll in a romantic setting.