A barn-dance party is ideal for a family reunion or a large office party. You can transform a plain room into a barn-dance party room in just a few hours. Break out the fiddles, bales of hay and gingham tablecloths. Watch as the guests fill up their dance cards for the evening. You can even fire up the coals for some delicious country grilling outdoors, weather permitting.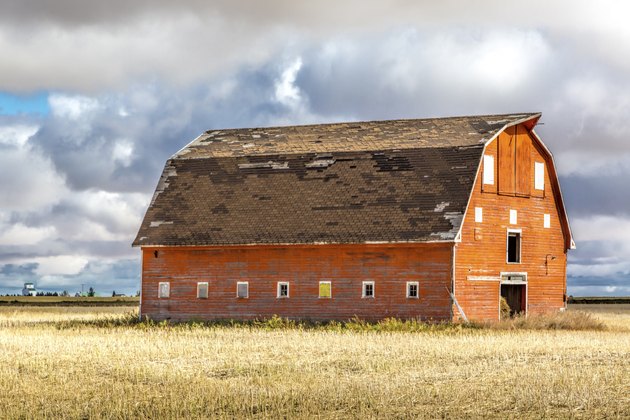 Decorations
Rent a banquet room, empty gym or a barn for the festive barn-dance party or convert a plain basement into a barn. Decorate the corners of the room with tall, dried corn stalks. Place bales of clean dry hay in a rectangular or square formation to outline the dance floor area, leaving a couple of openings for party guests to enter and exit.
Place several other bales of hay around the room for additional seating. Cover tables with gingham or apple-print tablecloths. Hang quilts, horseshoes, Old West pictures and old ad signs on the walls. Set out large washtubs filled with ice for drinks and to use as part of the decorating theme. Fill old metal wheelbarrows with artificial or potted flowers and place in empty areas inside and outside the party area.
Grilling
Use several grills in an outside area to cook hamburgers, pork chops, roasted corn-on-the-cob and hot dogs. Set up one table for cutlery, drink cups, plates, napkins and condiments to use on the grilled food. Ask for several volunteers to help with the grilling or hire a caterer.
Snacks
Set up another table with snacks and refreshments. Fill small tin buckets with shelled, roasted peanuts. Offer watermelon wedges and chocolate-dipped strawberries for fresh fruit. Put out bowls of kettle popcorn and platters of sweet cornbread and home-fried potato wedges for additional barn-dance menu items.
Western Costume Contest
Notify guests ahead of time to dress in the Western theme. Give token prizes to guests for different costume features. Prizes could be Western stickers, fake sheriff badges, bandanna scarves or Western-themed miniature table decorations. For example, award prizes for largest cowboy hat, most cowgirl sequins, youngest cowgirl or cowboy and largest spurs.
Other Games
Set up an area for barn-dance party guests to bob for apples. Fill a large washtub halfway with water and place numerous small apples in the tub. Write the rules for the variation of the game you play on an old piece of cardboard. Have a volunteer oversee the area and award token prizes to winners.
Set up horseshoe games on one side of the barn dance party room or outside (away from the grill). Guests can play horseshoes when they're not busy dancing, eating or bobbing for apples.
Music Selection
Hire a square-dance caller, if the party guests know basic square dancing. A square-dance caller is especially important when you host a barn-dance party for a square-dance group. Use a live band or a DJ to play different types of music. Don't limit music selection to only country or Western; mix in slow dance songs for couples. Add group dance songs such as the Electric Slide and Macarena.
If the other options are not feasible, play recorded music. Purchase CDs or have guests bring their mp3 players loaded with their favorite songs. Set up a mixing board along with CD player or cable to hook up an mp3 player. Place several speakers around the barn, to ensure everyone can hear the music. Test the sound system shortly before the event and correct any problems.