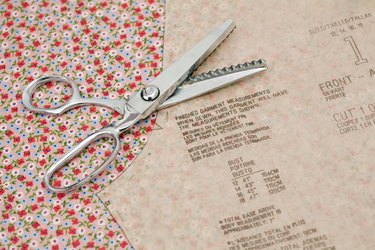 You've opened your grandma's sewing kit, and sitting right at the top are a pair of pinking shears. You know the kind ... the zigzag scissors also known as pinking shears. Usually made of stainless steel, these serrated scissors were designed as a cutting tool for fabric.
​Today, pinking shears, a major component of your sewing tools, are used for:​
Paper crafts
Scrapbooking
Dressmaking
Quilting
Fine tailoring
Finishing raw edges of any woven fabric
Woven fabrics fray when cut on the grain. You see the loose threads unraveling and seems becoming messy. Seem finishing is quick and easy with these special sewing scissors, as they approach the fabric's grain and instead of cutting along with the woven threads, they cut on the bias of the fabric, eliminating fraying.
Let's digress a moment. There is a difference between cutting tools known as scissors and shears.
​Scissors​ have two holes for the fingers at the top, both holes are the same size, and the blade length is usually less than 6 inches.
​Shears​ have a large finger hole that accommodates three or four fingers and a smaller hole for the thumb. Shears are usually longer than 6 inches.
We'll use the terms interchangeably.
Trimmers have generally shorter blades, which are very thin and tapered at the point. Tailor's shears have heavy blades for cutting thick fabrics; these are bent, while sewing scissors are straight.
A cut with pinking or zigzag scissors results in tiny triangles that eliminate fraying of the grain. Dressmaking shears are designed to cut on the bias of fabric, giving it a stretchy, flowing appearance. The bias cut is used primarily on evening gowns.
Don't use pinking shears to cut across the bias, on a diagonal or on a curve, as the fabric will fray.
Linings, often made from a thinly woven sateen fabric, are ideal for pinking scissors. Tailors also use the heavy-duty tailor scissors to cut seams in mens' suits and jackets.
Types of dressmaking zigzag scissors
Originally designed in the 18th century, early dressmakers used a chisel to cut the triangles into fabric, thus avoiding the unraveling of the fabric threads. The specialized pinking shears used today were offered to the public in the early 1930s, having been designed by Earnest Brinkman from Brooklyn.
What's in a name?
The name "pinking shears" has several points of origin, starting in London, England's Saville Row, home of top echelon mens' tailoring, and continuing through to Whatcom, Washington, where the patent for zigzag edges was launched.
Adjusting the tension, keeping the teeth aligned, making cleaner cuts and responding to the unusually heavy weight of the sewing tools before the introduction of stainless steel, pinking shears for fabric have become a staple in sewing boxes.
The orange-handled Fiskars scissors were the zigzag pinking shears of note, only to be in competition with those made by Gingher. Fiskars, the Finnish company known for its needle arts, home sewing and industrial uses, bought the Gingher Company, known for its scissors and shears for specialized uses, in 2005.
While high-quality Gingher scissors are designed for fabrics, a specialized line focuses on crafting.
Only the safety point pocket scissors, featherweight household shears or one of the paper craft scissors are designed for cutting paper. All other models are designed for cutting fabric and thread.
Crafting with zigzag patterns
If your mother didn't tell you when you were young, we'll tell you now: ​Never use pinking shears for fabric to cut paper.​
Children rush to use the sewing tools in the basket without realizing the limitations set for each tool. A company called Mr. Pen offers a child's version of a zigzag sewing scissors set, with zigzag cut scissors, craft scissors, embroidery scissors and all fabric crafts in the set of six pair offered on Amazon. Its stainless steel pinking shears are covered with plastic to protect a child's hands, and the pattern is etched on the shaft of the scissors.
Creating scrapbooks, photo journals, quilts, paper dolls and all manner of fabric and paper crafts has kept the scissors and shears companies in business for whatever needs a decorative edge.
Improvements to pinking shears
The heavy weight of traditional pinking shears invited steel manufacturers to come up with a stainless steel blade that included an ergonomic comfort grip. Soft grips, left- and right-hand tools, a balanced feel, long-lasting sharpness, complimentary repair and sharpening and even shears used for specific needlework entered the market.
Your grandmother's sewing basket has a new, modern look and no longer sits in the corner of the closet.