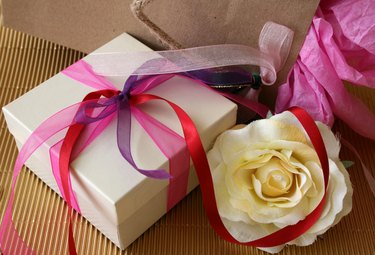 Traditionally made from the fibers the silkworm produces, organza fabric consists of a plain weave, sheer material used in crafts, home decor, bridal and evening wear. Modern versions of it are made from nylon, polyester and rayon. You can get the fabric with mirror- or crystal-like qualities with embroidery or flocking in iridescent, solid or two-tone colors or with special embellishments.
Organza Fabric Characteristics
As a crisp, see-through fabric that is lightweight and thin, organza has a distinctively fine texture and presents with a slight sheen; it has a shimmery quality to it that catches and reflects light. Because of its lightness, it is often used in bridal wear as a veil or as a layer in the dress itself and in cocktail or prom dresses. A stiff fabric, it has a slightly wiry quality to it, but it wrinkles easily. Silk organza originally came from China, but now silk and synthetic organza is manufactured around the world in prices that range from $3 upwards of $18 per yard, at the time of publication, depending on fabric type.
Plain Weave Organza
The threads and fibers of organza fabrics – be they silk, polyester or nylon – are combined in a plain weave on large manufacturing looms. A plain weave consists of horizontal and vertical threads or yarns, woven over and under each thread. As the simplest form of weaving, a plain weave creates more intersections than other weaves, resulting in a stronger fabric. Organza fabrics are very transparent and strong, but if you look closely enough, you can see the over-and-under weave pattern.
Organza Craft Applications
Because of the fabric's delicacy and translucent qualities, ribbons are often used as a necklace on which to hang original, one-of-a-kind jewelry, pendants or brooches. The workable fabric can also be used to make flowers to attach to hair bows, pin on a jacket or dress, or wear as a wrist corsage. Small organza bags become gift containers for home-crafted potpourri, soaps or lotions. Some crafters make fabric necklaces entirely from colorful organza fabrics.
Organza Fabric Use and Care
Like many sheer fabrics, organza takes getting used to when you're sewing or crafting with it. Because of how it's made, the fabric is slippery to work. When cutting the fabric, tape or hold its edges down to avoid it moving as you cut it, depending on what surface you place it on during cutting. Mark organza with chalk lines for sewing if you need to, as this easily washes off. Use a size 8 to size 11 universal needle with a new, sharp point when sewing it. On the sewing machine, attach a straight-stitch plate with the smaller needle hole to keep the fabric from moving around a lot while sewing. Although the fabric is tougher than it looks, when drying organza, set the dryer to the low-heat, tumble dry setting to avoid overheating it and keep it away from open flames. Wash in warm water.