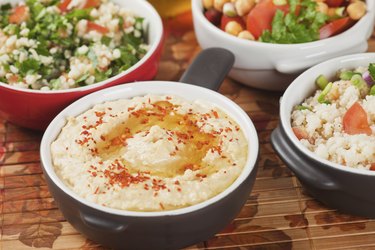 Hummus is a simple spread that consists of chickpeas, olive oil, tahini paste, lemon, and other seasonings or ingredients for flavor. Chickpeas provide protein and fiber, while the olive oil is a source of healthy fats. Hummus that you buy at the store may have extra sodium or fat, depending on the seasonings and ingredients used to flavor it. Make this dip easily at home to keep it healthy.
A Low-Fat Spread
A typical store-bought hummus has 50 calories per serving, which is usually about 2 tablespoons. About half of these calories come from fat, which is about 3 grams total. Homemade hummus has about 53 calories per serving. The calories from fat are slightly less than in the commercially prepared version, with total grams of about 2.6. Overall, hummus is a low-fat spread, but keep in mind that some flavors of hummus may have more total calories and fat.
Full of Fiber
Hummus is a low-carbohydrate spread. It has about 4 grams of carbohydrates per serving for store-bought and about 6 grams for homemade. The dip packs a good amount of fiber, with 1.8 grams for commercially prepared hummus, which is 7 percent of the daily value. Homemade versions contain 1.2 grams of fiber, which is about 5 percent of the daily value.
Protein Content
Two tablespoons of store-bought hummus provides about 2 grams of protein. This does not make hummus a good source of protein, but according to the United States Department of Agriculture, you can substitute 2 tablespoons of hummus for 1 ounce of meat in the protein food group. Homemade hummus has about 1.5 grams of protein per serving.
Low in Vitamins and Minerals
Hummus, whether store-bought or homemade, is not a significant source of vitamins A or C, calcium or iron. Both types are considered to be low-sodium foods, because each has less than 140 milligrams per serving. The sodium level of homemade hummus is less than store-bought, with a total of 73 milligrams compared with the 114 milligrams found in commercially prepared hummus.